Las Vegas CityCenter's Harmon Hotel tower (center), which has never been operational, may be razed. Image courtesy of Vrysxy. See more photos and charts below.
The days of the Harmon Hotel tower in Las Vegas may be numbered — even before the hotel welcomes a single guest.
Begun during the Las Vegas high-rise condo boom, the hotel tower — first proposed as a 49-story mixed-use condo and hotel project — is an empty, if flashy, shell that its owner, MGM Resorts International, seeks to demolish.
The building's downfall has been blamed on massive construction defects and the market downturn. MGM and the building's general contractor, Perini Building Co., are embroiled in litigation over the building's problems — and the outcome may ultimately decide its fate.
Originally conceived as a 400-room nongaming tower with more than 200 residential condo units, the Harmon was part of the larger CityCenter development on the Las Vegas Strip.
When MGM put the planned condo units on the market in early 2008, buyers — mostly owner-occupants — put down 20 percent deposits on nearly half of the units within a two-month period, said Robert Hamrick, who served from January 2006 to March 2011 as senior vice president and broker at CityCenter Realty Corp. He is currently chairman and CEO of Coldwell Banker Premier Realty in Las Vegas.
"It was a very emotional building. The physicality of it, (the) appearance, the architecture. It was going to be a very high-end luxury building, kind of appealing to the nouveau riche, perhaps. Upscale, classy and a somewhat young environment," Hamrick said.
But structural defects were discovered in the building, and in January 2009 MGM announced that the Harmon's finished size would be cut down to 28 stories, from the 49 stories originally slated. This eliminated the planned condo units entirely. Perini finished the Harmon's core and shell in December 2009.
The building currently sits unfinished as MGM and Perini debate the extent of construction defects in the courts. Neither MGM nor Perini responded to requests for comment by publication time.
In July, engineering firm Weidlinger Associates Inc., hired by MGM, issued a report that said the Harmon would likely collapse in a major earthquake, according to news reports. Ten days ago, MGM submitted a proposal to Nevada's Clark County seeking to implode the building, and blamed "faulty construction" and "public safety concerns."
"CityCenter consulted with experts about the fastest and safest way to resolve public safety concerns created by the structural defect issues at the Harmon," said Gordon Absher, vice president of public affairs for MGM Resorts International, in a statement.
"Based on their expert advice, CityCenter is recommending that the structure be demolished by implosion. We have been assured by demolition experts that a properly executed implosion will not pose health or safety problems for residents, visitors and adjacent businesses."
According to the engineering report, repair of the building may not be possible, and if it is, it could take up to three years to fix from start to finish, the company said.
Perini fired back in a statement that "MGM is seeking to implode the building to hide the fact that the Harmon is not a threat to public safety and to avoid having the repairs made that Perini and its third-party structural engineers have offered to do."
Perini also accused MGM of "buyer's remorse" due to the downturn of the real estate market. 
"MGM is now attempting to blow up the Harmon to avoid adding the Harmon as additional glut to its other vacant properties in CityCenter under the guise of 'public safety,' " the company charged.
The proposed plan is subject to approval from the county's building department. If approved, MGM would also seek to lift a court order that prevent alteration or destruction of the building while the litigation with Perini is unresolved.
There have been at least a dozen buildings imploded in Las Vegas since 1993, five of them since 2006, according to an implosions page on travel website Vegas.com. The most recent was the New Frontier hotel, the second-oldest hotel on the strip at the time, on Nov. 13, 2007. On May 9, 2006, the precursor to CityCenter, the Boardwalk hotel, was imploded to make way for the new development.
A county spokesman declined to comment beyond providing copies of the most recent correspondence between MGM and the county. In the latest contact between the two, on Aug. 18, the county asked for a meeting with Weidlinger "so that they can explain to us the basis for the analysis," including methodology and modeling information.
Whether the real estate downturn has played a role in the fate of the Harmon is unclear. But the high-rise condo market is clearly in a poor state.
Of 384 units on the market today with no offers, 73.2 percent are vacant. Of the 1,749 condo units available overall, 65.5 percent are vacant, according to data supplied by the Greater Las Vegas Association of Realtors' multiple listing service, which the association noted may "not necessarily account for all housing activity in Southern Nevada." That compares with a 52.6 percent vacancy rate in the overall home resale market year to date through July 2011, according to a report from local business advisory firm Applied Analysis.
"During the boom, there were over 107,000 luxury condominium units that were planned for future development. Not all of these potential units were expected to move forward," said Brian Gordon, principal at Applied Analysis.
"Currently, a total of 15,900 luxury units exist (were built) in the Las Vegas market, or approximately 15 percent of the total proposed at the height of the market.  
"Today, there are no projects actively under construction. The reality is a number of potential projects were infeasible, based on inflated pricing and demand projections, or were simply speculative land plays," he added.
While condo sales have risen of late, the median price for townhomes and condos in Southern Nevada was $59,000 in July, down 13.2 percent from a year ago and down 71 percent from the peak in mid-2006.
The CityCenter complex has about 2,500 units — about 1,500 in the Vdara Condo-Hotel and the rest split between The Residences at Mandarin Oriental and Veer Towers, Hamrick said. More than half of the units were sold before completion of the complex in December 2009, and only 30 to 40 percent of those sales actually closed, he said.
Those buyers who did close got a 30 percent discount from prices originally set between approximately $900 and $2,000 per square foot, he added. 
Ten percent of the units have closed at Vdara, and the unsold units are likely to remain so for a long time, as they are currently being held off the market, according to Hamrick.
"The properties were selling for significantly less, and it was basically the developer's decision that (the developer) cannot sell for those types of prices because they're far below replacement cost," Hamrick said.
The remaining units at Mandarin Oriental and Veer Towers have mostly been turned into rentals.
"The focus at this point has been to monetize those properties in almost any way that can be done, and what seems to be the favorable way at this point is to rent them out with the long-term picture of selling those properties over time," Hamrick said.
"Those that weren't sold are being selectively rented out. They're retaining certain inventory for the exclusive purpose of selling, and certain properties being rented out are available to be purchased."
The Greater Las Vegas Association of Realtors reported that 536 of 588 closed condo sales in July were all-cash deals, according to data reported by its multiple listing service.
Hamrick, too, noted investor activity in the condo market. "Prices have dropped so significantly — from $400,000 to under $100,000 in some cases — so that cash investors are buying up those properties. Many are buying on the condo-hotel side for the cash flow and for the upside potential for the resale. With a condo-hotel offering, units can be rented out on a daily basis," he said.
Image courtesy of Vrysxy.
Image courtesy of Bert Kaufmann.
Harmon tower, CityCenter during construction phase. Image courtesy of Lars Plougmann.
CityCenter during construction phase. Image courtesy of Dan4th.
Source: Coldwell Banker Premier Realty.
Source: Coldwell Banker Premier Realty.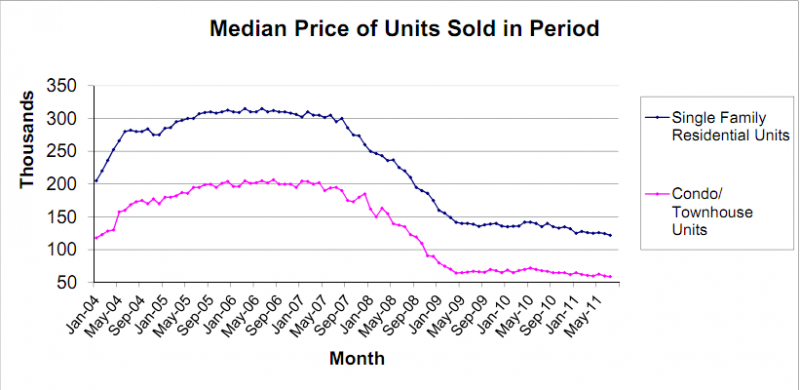 Source: Greater Las Vegas Association of Realtors.
Other News: