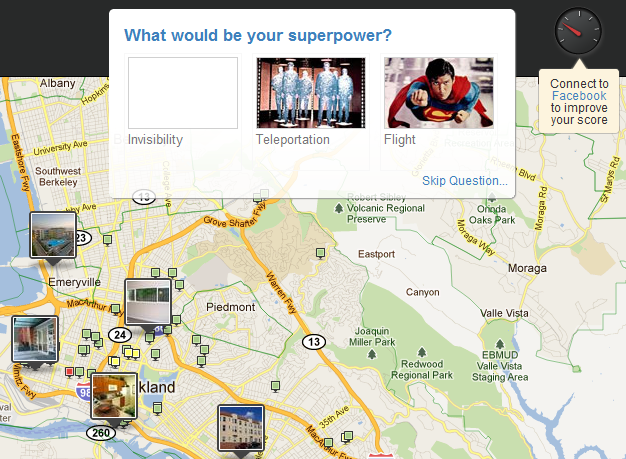 ApartmentList screenshot 
Apartment hunters and technology aficionados, take note: Vertical Brands, a San Francisco-based startup, this week officially launched what it claims is the "first online apartment matching engine."
ApartmentList launched in public beta in July. The site uses Facebook integration and users' answers to a series of questions posed on the site to offer personalized apartment recommendations.
The site allows users to log in using their Facebook account and then uses the information of where users and their friends check in to narrow down users' apartment search. Users can see where their friends have checked in on a map that also shows listing locations and Yelp-reviewed venues.
The site further narrows searches through answers to questions such as "Are you happy with your life?" or "What is your favorite birthday cake?" Users can skip any questions they prefer not to answer.
"Finding a new apartment should be a fun and exciting time that has instead become a painful experience for most people," said John Kobs, ApartmentList CEO and co-founder, in a statement.
"Involve your friends, answer some crazy questions, and get really great apartment recommendations in return — some that you might never have imagined."
ApartmentList users can share listings they like with anyone or everyone on their Facebook network and ask their friends questions about specific listings or neighborhoods. The site also takes into account more conventional search filters such as number of bedrooms and bathrooms, price range, desired neighborhood, and amenities.
ApartmentList's matching engine includes a variety of consumer profiles the company has built that correspond to different neighborhoods, Kobs told Inman News.
Over time the company expects users' answers to the questions on the site will help its matching engine become more predictive, similar to the recommendation services offered by sites such as Amazon, OkCupid and Netflix.
The site currently has 1.3 million listings nationwide, with a running count on the site's home page. Several partners feed listings to the site, including Rent.com, Move.com, ListHub, Point2, ApartmentGuide.com, HotPads, Geebo, ApartmentFinder, Oodle, ApartmentSearch, RentBits, NakedApartments, ForRent.com, RentWiki, RentJungle and RentJuice, the company said.
ApartmentList consciously chose not to include Craigslist listings among its offerings because of problems with data quality, Kobs said. The site will not take direct listings from consumers.
ApartmentList plans to release iPhone and iPad mobile application in the fourth quarter, followed by an Android app, the company said.