The Houston Association of Realtors has launched a free mobile app for Android devices that features multiple listing service access for HAR members and a range of search tools for members and consumers.
"HAR members who subscribe to the (MLS) … will be able to access MLS data, their leads, listings and their brokerages' listings inventory," according to an association announcement today.
Property searches can be filtered by proximity, price and square footage, among other user-specified criteria, and property details include price, room sizes, interior and exterior features, and open house dates and times, among other information, according to an app description at the Android Market site.
The app, which launched Sept. 19, had 10 user ratings and an average rating of 4.7 stars out of a possible five stars earlier today.
HAR had launched an iPhone app in October 2010 — the app had been ranked as high as 110th among the most popular Lifestyle category mobile apps at Apple's App Store, according to app-tracking site TopAppCharts.com. The iPhone app has an average rating of 2.5 stars out of five possible stars, based on 224 ratings to date. And the latest version of that iPhone app, updated on June 24, 2011, has an average rating of 3 stars, based on 25 ratings to date.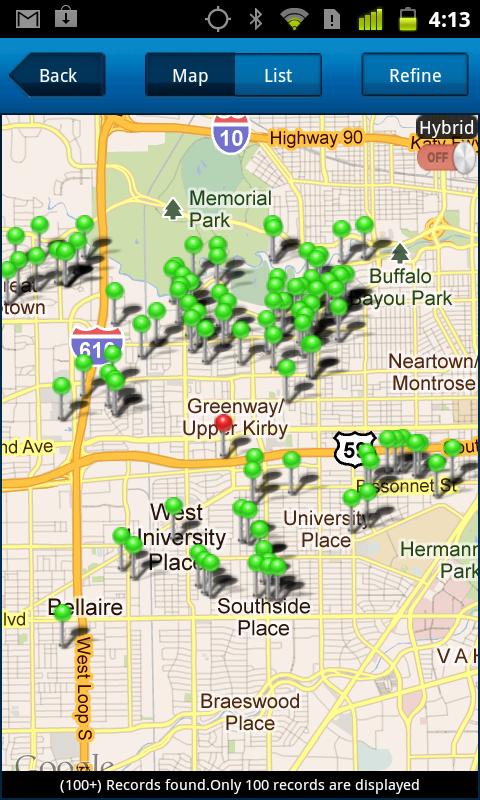 HAR Android app screenshot.

"Almost from the moment we introduced the iPhone app last year, consumers and HAR members alike began inundating us with requests to make the app available for Android devices," HAR Chairman Carlos P. Bujosa said in a statement.
Android app users can thumb through a gallery of up to 16 photos for each property listing. The app also features Google mapping with Street View, the ability to bookmark favorite listings, view a history of searches, contact the listing agent or broker, and offer direct feedback to HAR.