In the season finale of a technology-focused reality show tonight, a real estate startup that helps consumers organize their rental search in one place announced it had expanded its service nationwide. The company, Nestio, also announced a partnership with eBay Classifieds.
Nestio made these announcements on Bloomberg TV's TechStars reality show. The six-episode series followed six companies that participated in a startup accelerator program, also called TechStars. The 3.5-month program provided several startups with seed funding and helped them build their businesses. Tonight's finale followed up on the startups six months after the end of the program.
Nestio allows users to save rental listings from any site to Nestio.com, where users can compare listings side by side by location, cost, neighborhood, layout and photos. As part of a website redesign also unveiled today, the site now allows users to see local news next to individual listings and also compare listings' distance to a preferred location, such as a workplace.
The tool also allows users to add their own notes and photos to listings, highlight favorites, and view property contact information. If potential roommates would like to collaborate, the site allows users to link accounts and see each other's listings, notes and photos. 
If a listing's information changes, Nestio notifies the user. Users can also track listings through a mobile application for the Apple iPhone.
Users can add listings to Nestio by pasting in a listing's URL or through a Nestio "plus" button users can add to their bookmarks bar. Users can also manually add a listing.
Nestio's tool, previously only available in New York City, where the startup is based, is now available nationwide. Nestio has also signed up its first national partner, eBay Classifieds, which will now feature a "plus" button on every rental listing in its database, Nestio said.
Other than eBay Classifieds, users can add listings to Nestio from CitiHabitats, Craigslist, Curbed, Naked Apartments, The New York Times, Oodle, Prime Real Estate New York City, Realtor.com, StreetEasy, Trulia, WestsideRentals.com, and Zillow.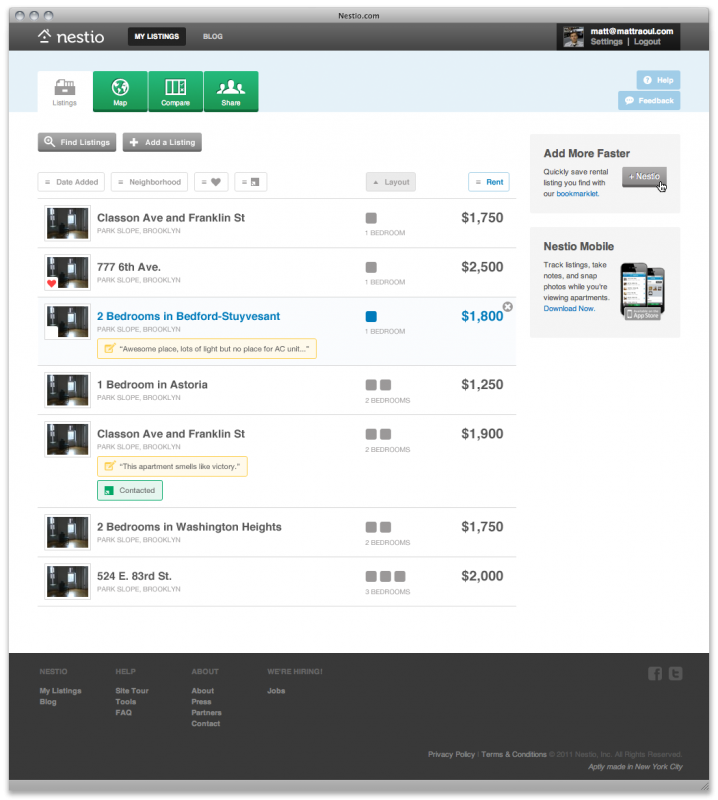 Nestio screenshot.