Anyone who's ever been involved in a "he said, she said" dispute with a tenant or landlord over the condition of a rental property knows how frustrating (and costly) it can be. One of the only fool-proof ways to secure your security deposit should there be a disagreement at move-out is to document everything upon move-in.
It's a lesson I've learned the hard way, which is why Imfuna caught my attention. Founded by Jax Kneppers in March 2009, the startup has developed a comprehensive solution called Rent Pro that allows users to quickly capture information about the condition of any property using a mobile app.
That data is then time-stamped and stored in the cloud so the user can access and share detailed inspection reports.
Kneppers and founding member Alan Corkhill are forensic engineers who know firsthand how important it is to document conditions in a systematic, organized way.
They're often called to testify in trial as expert witnesses as part of their investigation of construction-related problems involving defective construction, materials failures or building delays.
Kneppers, who's worked in the construction industry for more than 30 years, leveraged that expertise to develop the Imfuna platform. The Rent Pro app, which is designed for property management professionals, is available for the iPhone, iPad 2 and Android devices for $1.99.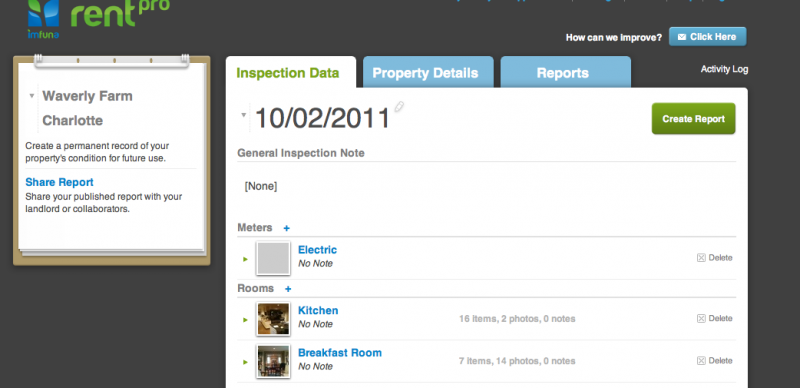 Rent Pro screenshot.

Imfuna's first consumer offering, Rent Pro Lite, can be downloaded on the iPhone or iPad 2 for 99 cents; additional fees apply for creating reports.
The company is headquartered in San Francisco and has an office in London to serve its U.K. customers. Kneppers is also the president of Jax Kneppers Associates (JKA), a construction consulting business he's operated for more than two decades. I asked him about his decision to launch a tech startup, and his plans for Imfuna's future:
Q: After 30 years in the construction industry, what prompted you to make the move to start a tech business?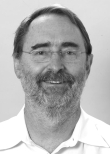 Jax Kneppers
A: The evolution of my experience, starting as a mechanical engineer in the 1970s, paralleled the evolution in the computer industry.
As a college student, we were taught computer programming utilizing cardboard punch cards. Obviously, this has evolved significantly over the last 30 years. It has always been apparent to me that innovation can be accelerated by adopting technology.
With the advent of smartphones, it (became) obvious to me that we (could) develop a tool that has a user-friendly interface supported by a very complex platform, integrating mobile devices with the power of cloud-based servers. I (was) so inspired by these developments that I simply had to start a tech company to channel my vision and energy.
Imfuna was founded on the idea that we could develop a platform that could solve the complexity and inefficiency of data collection of properties or conditions, and organize this in a seamless and efficient way.
Q: What does the name "Imfuna" mean?
A: "Imfuna" is derived from the Zulu word which (means) to love and desire.

Q: How long did it take you to launch the first Imfuna product?
A: It took us approximately six months utilizing a Samsung smartphone and Microsoft Mobile NT to develop a prototype for testing our ideas. Once we had determined that our ideas and innovations were workable, we retained a development firm to develop the iPhone and launch our first product. That development took approximately one year.
Q: What advice would you offer to someone who was considering starting their own real estate tech company?
A:
Be prepared to spend a lot of time and money to develop your product.
Make sure your product solves a problem end to end, and not a small piece of it.
Be prepared to deal with technophobes.
Q: How does Imfuna distinguish itself from other property inspection solutions on the market?
A: We view our competition as a very broad field that includes people locked into their old ways of doing business or other nonmobile companies that offer partial automated solutions. Imfuna is the complete digital inspection solution.
Imfuna provides the user the ability to collect data in the field in a systematic, organized way, utilizing photographs, notes, dictation and a guide, then upload (the information) into the cloud to create a functional report and tool that can be shared and distributed to selected participants.
Q: Why did you decide to develop a consumer version of Rent Pro?
A: Imfuna was developed to democratize the process of data capture. As such, Rent Pro Lite is designed for individuals to create their own personal inventory to protect their interest when renting or leasing a space. Additionally, it provides an inventory for insurance claims.
Q: Your products are available in both the United States and the United Kingdom. How do the two markets differ?
A: In the U.K., the retention of deposits for rentals is legislated so that the deposit is held in a government-approved plan. This legislation has accelerated attention on the inventory process, including move-in and move-out reports.
Q: You're also beta testing a third product called Punch List that serves the building industry. Can you tell me more about how Punch List works?
A: Imfuna Punch List is a logical development of our platform. The punch list process in construction and development is a messy and inefficient interaction between the many parties involved in the construction process, including developers, owners, design professionals, contractors, subcontractors and suppliers.
Imfuna Punch List offers users the simplicity of smartphone capture in an organized and systematic way. Multiple parties can then collaborate across the cloud. Typically, in the construction process the last 1 percent of the job holds up 10 percent of the contract payment due to open punch list items. Imfuna offers a solution that is painless and interactive, and maintains a transparent audit trail for all parties.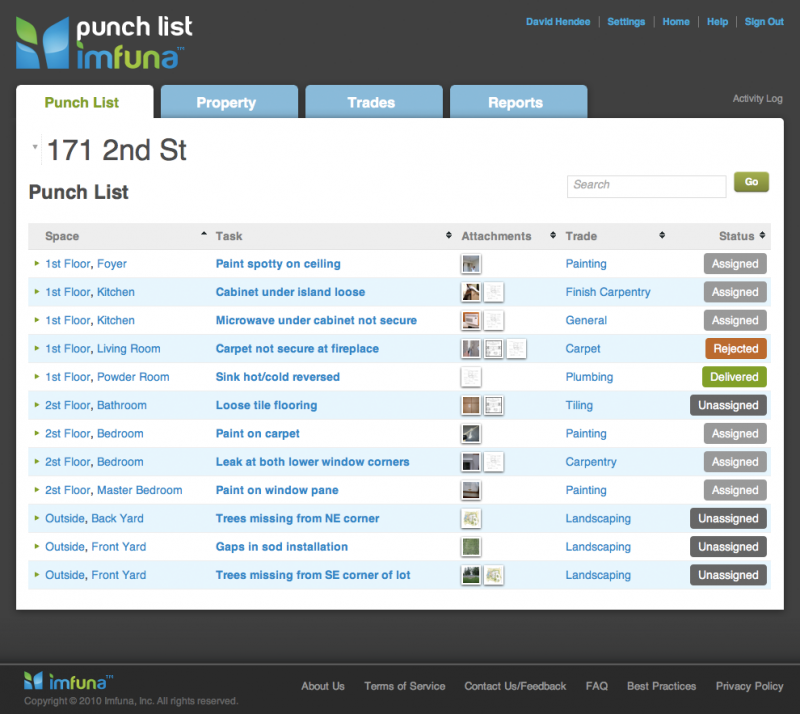 Imfuna Punch List screenshot.
Q: What are your top three priorities at this stage in the company?
A: Our top priorities are to expand our user base, to continue the product evolution, and to launch Imfuna Punch List.
Q: What's next for Imfuna?
A: Our goal is to become the standard bearer in the inventory process.
Want to recommend a RE tech start-up for an upcoming Startup Scene? Send your ideas to Natalie Fonseca at natalie@inman.com.
Natalie Fonseca is the co-founder and executive producer of Tech Policy Summit and the Privacy Identity Innovation (pii) conference, and the content producer for Inman News' Data Summit and Real Estate Connect. You can follow her at @TechPolicy.