Six of the 10 states with the biggest homes are in the West, based on the median square footage of homes for sale on Realtor.com in September.
Realtor.com reported that the median size of homes for sale in Utah was the largest in the country that month, at 2,305 square feet. Utah was also the only state to post a median four bedrooms for the typical home; every other state posted a median three bedrooms. Washington, D.C., was the only area in the country where homes for sale at Realtor.com had a median two bedrooms.
The six Western states among the top 10 with the largest homes are: Utah, Colorado, Wyoming, Montana, Idaho and Washington. Three of the states are in the South: Texas, Georgia and Maryland. One Midwest state is on the top 10 list: South Dakota.
Median lot sizes among the 10 varied widely, from just under 10,000 square feet in Texas to a median 74,000 square feet per for-sale property in Montana.
Median prices also varied, from $165,000 in Georgia to $299,900 in Maryland, though both states had roughly the same median house size. The median price data reflects all for-sale property listings on Realtor.com, including land, single-family homes, condos and co-ops. (View the full list of median house sizes for all 50 states and Washington, D.C.)
State: Utah

| | |
| --- | --- |
| Median house size (sq. ft.) | 2,305 |
| Median lot size (sq. ft.) | 10,019 |
| Median price | $219,900 |
| Median beds/baths | 4/2.5 |
A large cabin in Hobble Creek Canyon, along the Wasatch Mountains. Mark Scott/Shutterstock
…CONTINUED
State: Colorado

| | |
| --- | --- |
| Median house size (sq. ft.)  | 2,126 |
| Median lot size (sq. ft.) | 10,202 |
| Median price | $275,000 |
| Median beds/baths | 3/2.5 |

Homes on the hill near Crested Butte in Colorado. SNEHIT/Shutterstock
…CONTINUED
State: Wyoming

| | |
| --- | --- |
| Median house size (sq. ft.) | 2,052 |
| Median lot size (sq. ft.) | 21,780 |
| Median price | $226,500 |
| Median beds/baths | 3/2 |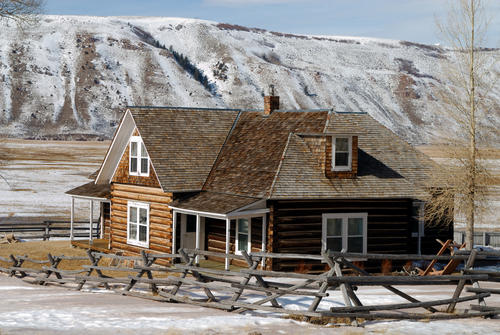 Log house on the National Elk Refuge in Wyoming. Brent Reeves/Shutterstock
…CONTINUED
State: Montana

| | |
| --- | --- |
| Median house size (sq. ft.) | 2,040 |
| Median lot size (sq. ft.) | 73,616 |
| Median price | $250,000 |
| Median beds/baths | 3/2 |
Modern Montana homes on the edge of the Great Plains. trekandshoot/Shutterstock
…CONTINUED
State: Texas

| | |
| --- | --- |
| Median house size (sq. ft.) | 2,031 |
| Median lot size (sq. ft.) | 9,583 |
| Median price | $174,900 |
| Median beds/baths | 3/2 |

Aerial view of suburb in Bay City, Texas. iofoto/Shutterstock
…CONTINUED
State: South Dakota

| | |
| --- | --- |
| Median house size (sq. ft.) | 1,984 |
| Median lot size (sq. ft.) | 12,066 |
| Median price | $169,900 |
| Median beds/baths | 3/2 |

Looking down on the western suburbs of Rapid City, S.D. Harris Shiffman/Shutterstock
…CONTINUED
State: Georgia

| | |
| --- | --- |
| Median house size (sq. ft.) | 1,963 |
| Median lot size (sq. ft.) | 26,572 |
| Median price | $165,000 |
| Median beds/baths | 3/2.5 |

Downtown Atlanta skyline. SeanPavonePhoto/Shutterstock
…CONTINUED
State: Idaho

| | |
| --- | --- |
| Median house size (sq. ft.) | 1,932 |
| Median lot size (sq. ft.) | 13,068 |
| Median price | $179,900 |
| Median beds/baths | 3/2 |

House in Boise, Idaho. Joy Prescott/Shutterstock
…CONTINUED
State: Maryland

| | |
| --- | --- |
| Median house size (sq. ft.) | 1,920 |
| Median lot size (sq. ft.) | 10,047 |
| Median price | $299,900 |
| Median beds/baths | 3/2.5 |

Townhomes, typical of Baltimore. GJS/Shutterstock
…CONTINUED
State: Washington

| | |
| --- | --- |
| Median house size (sq. ft.) | 1,903 |
| Median lot size (sq. ft.) | 11,761 |
| Median price | $259,950 |
| Median beds/baths | 3/2 |

Floating homes in Seattle. Home on left was used in the film "Sleepless in Seattle." Barry Salmons / Shutterstock.com
More Real Estate Market Reports:
…CONTINUED
Median square footage of homes for sale at Realtor.com (September 2011)
| | |
| --- | --- |
| State | Sq. ft. |
| U.S. | 1,761 |
| Utah | 2,305 |
| Colorado | 2,126 |
| Wyoming | 2,052 |
| Montana | 2,040 |
| Texas | 2,031 |
| South Dakota | 1,984 |
| Georgia | 1,963 |
| Idaho | 1,932 |
| Maryland | 1,920 |
| Washington | 1,903 |
| Virginia | 1,896 |
| Mississippi | 1,879 |
| Tennessee | 1,848 |
| South Carolina | 1,846 |
| New Mexico | 1,838 |
| Minnesota | 1,828 |
| Vermont | 1,815 |
| Connecticut | 1,804 |
| Alabama | 1,800 |
| Delaware | 1,800 |
| North Carolina | 1,800 |
| Arkansas | 1,792 |
| Alaska | 1,789 |
| North Dakota | 1,788 |
| Louisiana | 1,786 |
| Kansas | 1,782 |
| Oregon | 1,780 |
| New Hampshire | 1,768 |
| New York | 1,764 |
| Arizona | 1,763 |
| Kentucky | 1,750 |
| Oklahoma | 1,746 |
| Massachusetts | 1,744 |
| Indiana | 1,742 |
| New Jersey | 1,740 |
| Nebraska | 1,714 |
| West Virginia | 1,714 |
| Nevada | 1,712 |
| Pennsylvania | 1,700 |
| Florida | 1,694 |
| Rhode Island | 1,688 |
| Wisconsin | 1,669 |
| Maine | 1,663 |
| Missouri | 1,650 |
| Illinois | 1,632 |
| California | 1,625 |
| Ohio | 1,620 |
| Iowa | 1,550 |
| Michigan | 1,530 |
| Hawaii | 1,308 |
| Washington, D.C. | 1,000 |
Source: Realtor.com