A company that's worked behind the scenes for more than a decade surveying consumers about the quality of services provided by real estate agents has launched a consumer-facing agent-rating website.
Quality Service Certification Inc. says RatedAgent.com is emerging from beta testing today with consumers' ratings for 10,000 agents. The company says it has hundreds of thousands of ratings for an additional 50,000 agents that it could make available on the site — with those agents' approval — in the next 90 days.
Based in Orange County, Calif., QSC has been surveying consumers and providing agent training and certification since 1998 — often through contracts with real estate brokers, multiple listing services and Realtor associations.
"When we started 13 years ago, you had to take our education and training and earn your certification to participate in our survey process," said Larry Romito, president and CEO of Quality Service Certification Inc. "The number of agents who would step up to the plate was less than we'd thought."
Now, with the launch of RatedAgent.com, any agent who is willing to pay an annual fee of $60 can have QSC survey their clients in order to get an objective reading of their strengths and weaknesses — without the training and certification requirements.
Romito said brokers, MLSs and Realtor associations can qualify for volume discounts that reduce the per-agent cost.
QSC got a boost in March when the California Association of Realtors endorsed the concept of agent ratings, sponsoring a pilot program with Sunnyvale-based MLSListings Inc. in which QSC began surveying clients of six participating brokerages at no cost to agents.
CAR has extended the program for a year, and MLS Listings is now offering it to all subscribers at no charge.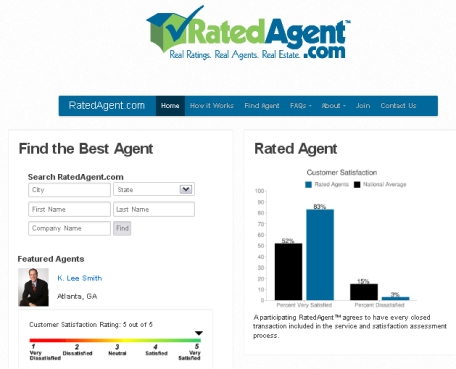 RatedAgent.com screenshot.
"Given the expansion of the pilot program and the availability of QSC's revamped site, we expect interest in the program to heat up considerably when agents start using this site," said MLS President and CEO Jim Harrison.
QSC also provides services to the Montreal Association of Realtors, which makes agent ratings available on its own public-facing site.
Agents who want to make results of QSC's surveys public on RatedAgent.com can't cherry-pick the surveys that show them in the most favorable light. But they can choose whether to display their overall customer satisfaction rating, and which of the 32 data points that make up that score that they want to present.
QSC asks 16 questions of both buyers and sellers, such as the seller's satisfaction with an agent's marketing plan for the seller's property, or the assistance provided in negotiating the price and terms of a sale. Consumer satisfaction ratings for question are displayed as pie charts, which agents can turn on or off.
"They cannot control the data, but we do give them the option of not inundating people with data" by turning individual pie charts on or off, Romito said.
An agent who only works with sellers, for instance, might not want to display data points for buyers, he said. "Why would you turn on pie charts that have no information?" he said.
Finally, agents can decide, on an "all-or-nothing" basis, whether open-ended written comments from their past clients will be visible. While older consumers often find statistics like those QSC tallies in its pie charts compelling, those under 35 are often more interested in peer comments, Romito said.
Some agents don't see the need for third-party surveys, he said, because they make a habit of asking their clients for feedback.
The problem with that approach, he said, is "sometimes if you didn't do a good job, they don't tell you because it's too confrontational. This is an opportunity to validate areas where they do well, and identify improvement opportunities. Then they can decide when and how much of the data they want to publish."
While there are many agent-rating sites, Romito claims that only RatedAgent.com is immune from bogus reviews aimed at boosting — or tearing down — agents' reputations.
QSC, he said, is alone in employing a closed system in which only buyers and sellers who have completed a transaction can provide input.
In the CAR pilot program, agents enter their client contact information into the MLS after close of escrow. QSC gets a daily RETS (Real Estate Transaction Standard — a real estate data-exchange standard) feed from MLSListings, and sends out a survey two weeks after a closing.
Zillow.com in December began allowing consumers to rate agents they've worked with, and other sites that invite agent ratings or reviews include include Redfin, ZipRealty, Homethinking, AgentRank and Yelp.
Redfin and HAR.com, the public-facing website of the Houston Association of Realtors, have also experimented with providing consumers with access to MLS data that shed light on which agents have the most listings and closings.
Both Redfin and HAR.com pulled those statistical tools just days after launching them — HAR.com because of protests by members, and Redfin because of accuracy complaints. HAR.com and Redfin continue to offer agent ratings.
A handful of brokerage websites provide agent-performance statistics based on MLS data, including NeighborCity.com, AgentAquarium.com and FranklyMLS.com.