NEW YORK — Realtor.com is about to roll out a free tool that will allow real estate professionals to build single-property websites optimized for mobile devices.
Realtor.com president Errol Samuelson introduced the company's Mobile Listing Site Builder on Thursday to attendees at Real Estate Connect in New York City. The platform will launch in about two weeks.
The company decided to offer the tool after realizing that up to 45 percent of Realtor.com's traffic was coming from mobile devices on weekends, but many listings linked to agent websites that were not mobile-optimized, Samuelson told Inman News.
"It's just a terrible user experience. It's bad for our customers. It's bad for us because we send them there from our site," he said.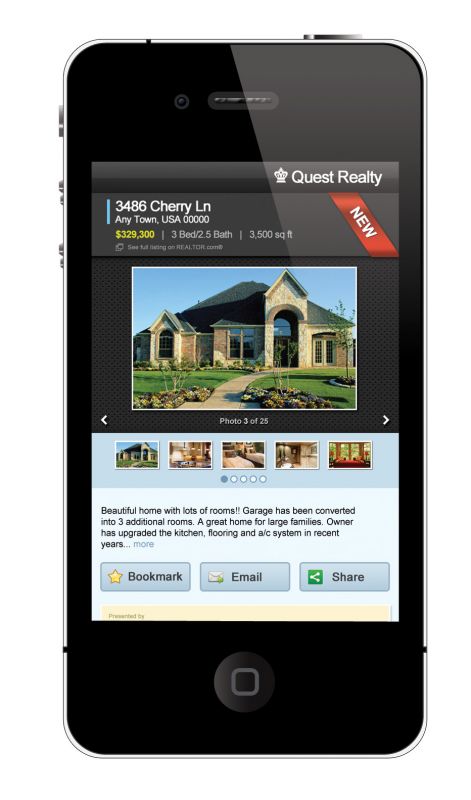 Screenshot of a mobile listing site built using Realtor.com's Mobile Listing Site Builder. 
Because Realtor.com contains listings from virtually every multiple listing service in the country, the company reasoned it would be "easy" to provide agents with a tool they might otherwise have to pay a monthly fee for, Samuelson said.
After signing up, building a site is a two step process. First, agents choose their MLS and type in their MLS ID to validate their status as an MLS member. Secondly, agents choose a listing. The mobile website is then instantly generated and populated with listing data, including photos.
The tool also automatically generates a shortened, shareable URL for the site, an embeddable QR (Quick Response) code for marketing materials, and PDFs for listing fliers and postcards.
There will not be any advertising on the mobile sites, Samuelson said. "This is strictly for the agent."