Foreclosure rates are lower than they were a year ago in 61 of the nation's 100 largest housing markets, according to a new analysis of loan data by CoreLogic.
CoreLogic counted 1.4 million homes in the foreclosure process during February, down 7.6 percent from a year ago.
With 65,000 homes completing the foreclosure process in February, loan servicers were completing foreclosures at an annual rate of 670,000 per year. That compares to 862,000 foreclosures actually completed in the preceding 12 months.
The percentage of borrowers behind on their mortgage payments by 90 or more days fell to 7.3 percent in February, down from 7.8 percent at the same time a year ago but up slightly from the 7.2 percent seen in January 2012.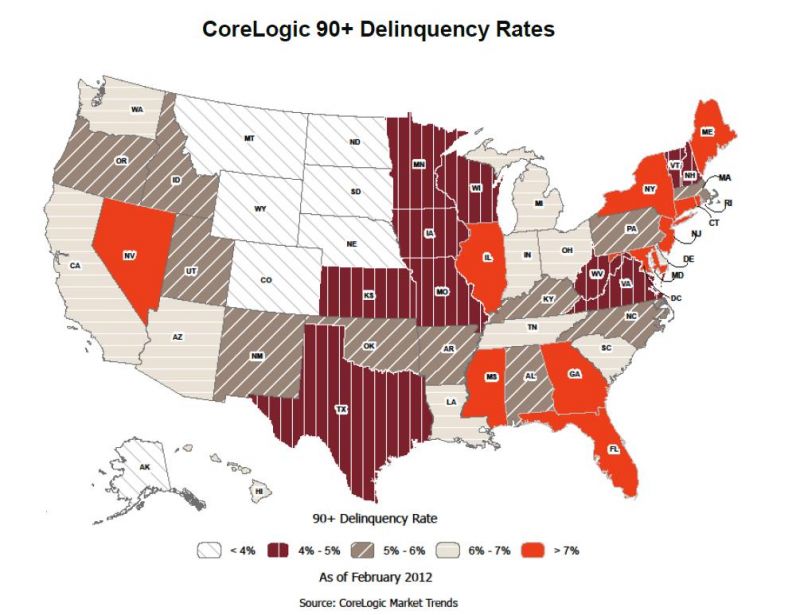 About 3.4 percent of all homes with a mortgage were in the foreclosure process, down from 3.6 percent a year ago. Approximately one-third of homes nationally are owned outright and do not have a mortgage.
The five states with the highest foreclosure rates were: Florida (12.0 percent), New Jersey (6.6 percent), Illinois (5.4 percent), Nevada (5.0 percent) and New York (4.9 percent).
The five states with the lowest foreclosure rates were: Wyoming (0.7 percent), Alaska (0.8 percent), North Dakota (0.8 percent), Nebraska (1.0 percent) and Montana (1.4 percent).