Editor's note: On March 30, Inman News opened its headquarters to a full day of real estate technology demonstrations. This first-ever Demo Day featured 24 participants. Inman News and sister site InmanNext will be highlighting some of the participants' technologies in upcoming coverage.
| | |
| --- | --- |
| Company name | The ABC Tool (Transitioning to Doorsteps) |
| Company website | www.theabctool.com (soon to be www.doorsteps.com) |
| Revenue model/cost | Free 30-day trial. Starter: $10/month for 50 active buyers. Plus: $24/month for 100 active buyers. Pro: $49/month for unlimited number of buyers. |
| Intended audience/users | Real estate agents, homebuyers, home sellers |
| Key features | 1. Simplifies the homebuying experience into six trackable steps |
| | 2. Highlights where an agent needs to be involved with a homebuyer, improving efficiency. |
| | 3. Brings together buyers, agents and lenders. |
| Company launch | 2010 |
| Company summary | Manhattan-based company focused on humanizing the homebuying experience. |
Michele Serro, founder of The ABC Tool, soon to rebrand as Doorsteps.com, said her company's goal is to elevate a real estate agent's high-value roles. The tool, which aims to simplify the homebuying process with a straightforward, well-organized website, is targeted to real estate agents who seek to maximize their efficiency when working with buyers.
It started with an understanding that something was off in the homebuying experience, said Serro; it was too complicated, too arcane. With today's technology, Serro asked rhetorically, "How might you redesign the homebuying experience? What would the experience look like?"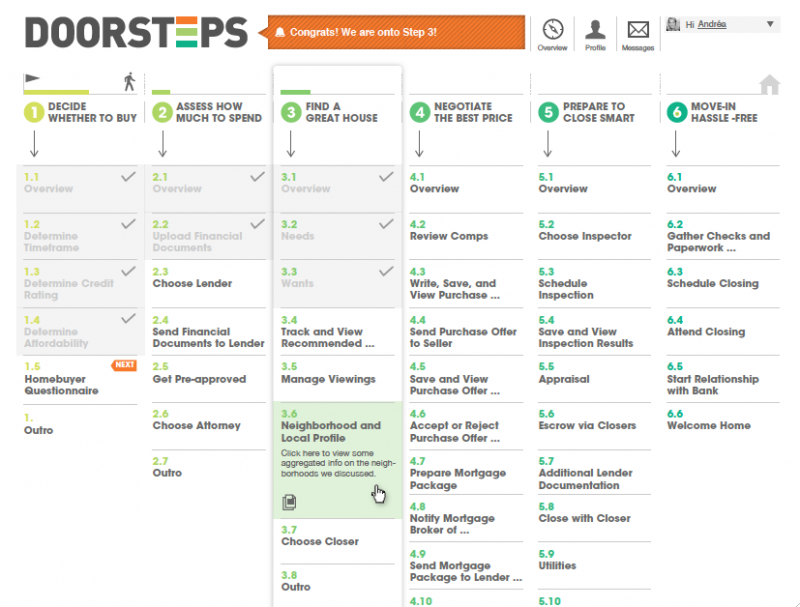 The ABC Tool has organized homebuying into a narrative-based structure of six stages that Serro dubbed the homebuying journey:
1. Visualize homeownership.
2. Assess your buying power.
3. House hunt in earnest.
4. Make an offer and negotiate.
5. Prepare for closing.
6. Close and secure keys.
Serro demonstrated how the online tool provides a running checklist of items to be taken care of in each stage, which is viewable to both the agent and the buyer at all times, helping them stay on the same page and be mutually aware of each other's roles and next actions in the homebuying process.
The tool, said Serro, can solve and streamline the personless phases of a homebuying transaction, maximizing an agent's time and a homebuyer's confidence in the process.