Real estate software provider planetRE has updated its customer relationship management (CRM) platform with new tools and technologies targeted for residential property rentals and management.
PlanetRE's Socialite CRM launched last summer as a "single sign-on" (SSO) platform that combines social media relationship management on Facebook, Linkedin, and Twitter with paperless transaction management.
The new tools include branded broker-agent Internet Data Exchange (IDX) websites with MLS integration, lead management, live Facebook chats, and Facebook Open House, which allows agents to invite prospects or clients to events through Facebook and include photos, fliers or videos.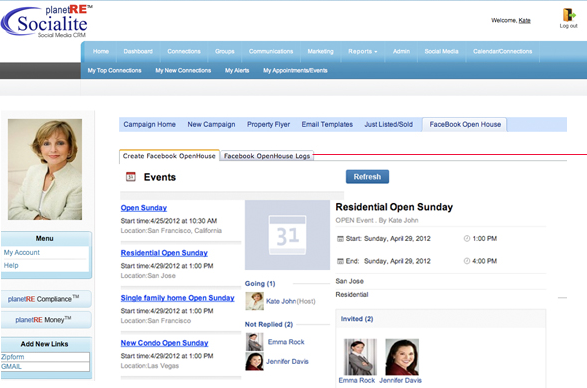 Screen shot of Socialite CRM Facebook Open House tool.

Socialite CRM includes an online offer and disclosure center that supports DocuSign electronic signatures as well as document management, transaction audits and secure storage. The CRM is accessible via mobile browsers, iPhones or Android smartphones.