U.S. economic data are eerily stable, while several financial markets are priced for something awful — over there, not here. The 10-year T-note trades 1.75 percent today, more than a half-percent below its yield at the European false dawn in March.
Sales of new and existing homes are slightly positive but well below the modest bounces from the tax credits in 2009 and 2010. The Federal Housing Finance Agency found a remarkable 1.8 percent gain in home prices in March alone, but the gain in most places is undoubtedly due to a drop in distressed sales. Marker: the 4.7 percent jump in Florida.
One mystery, and one for "Obviousman!"
First, where are the distressed homes? Why are they not coming to market? There are at least 4.5 million somewhere in the foreclosure pipe, but fewer coming to market than are selling; hence a nationwide decline in listed inventory.
Then, evident beyond my ability to describe and remain calm: the credit shortage. The FDIC found a shrinkage in bank loan balances of nearly 1 percent in the first 90 days of 2012 — $56 billion — and most severe for small business.
If the public wants the bipartisan national pastime to be "Kill the bankers!" it will get its way, but there will be economic consequences. The narcissism of it all requires a roomful of mirrors.
Important stuff is going on in the world, but Facebook rules all. Facebook is a venture based on self, yet derives no revenue from its users (unlike Apple, for one); it may make money from advertisers to its users. The IPO fell 15 percent from its open, and the "Who took my cheese?" shriek has triggered accusations and investigations all the way to the SEC.
If we're not careful with personal absorption, we could be … Europe. Herewith a family fable to illustrate last-can discussions there.
The nieces and nephews of a rich and childless uncle come to visit him. After pleasantries, a nephew says, "Uncle, we have come to ask you to co-sign loans for us."
Very well, he replied. The proceeds of these loans, perhaps to buy homes? "No, to spend." Why, he asked? "Because we don't have any money and nobody will loan us any." That's not what I meant. Why should I co-sign a loan for you to spend?
"Because we are a family, and family is so important." Well, I might consider if you have a plan to spend only the money that you have, and not new borrowings. "But, Uncle, then we would not need you to co-sign. And we would run out of money and not be able to come to see you any more. Would you co-sign a temporary loan?" No, I would like to see progress on your spending first.
"But we are broke now. What if we all agreed to sign together with you on one loan, all of our credit and promises combined?" My beloved nieces and nephews … you tell me that none of you can get a loan individually. What good would it do to have you sign all together? Why don't you just ask me to give you the money, not bother with a loan?
"That would be very nice!! Will you just give us the money instead?"
Nein.
All of this week's heightened discussions of pan-European bonds, pan-European deposit insurance, fiscal convergence, fiscal discipline, European emergency funds, all of it — all the same as the conversation above.
Everybody watching Europe has had one or more false premonitions of the moment of breakup. Last fall the European banking system was failing, but the European Central Bank floated it on an ocean of new cash; in March, Greece was collapsing, but a bond write-down and new "loans" bought some time.
This week the Financial Times broke a story too technical to get play, and did not itself understand the magnitude: The European Central Bank, in deep secrecy, activated Emergency Liquidity Assistance. The ELA allows euro-zone national central banks to print euros as necessary to support individual national banks whose collateral is exhausted. Greece alone has printed 100 billion in 90 days, joined in unknown amount by Spain, Ireland and who-knows-else. That is exactly the emergency measure you would take before returning to one or more local currencies.
Here, no fear! We have been the beneficiary of foreign currency and financial crises. No matter how screwed up we may seem to ourselves, we are outdone overseas.
One picture worth a gazillion words: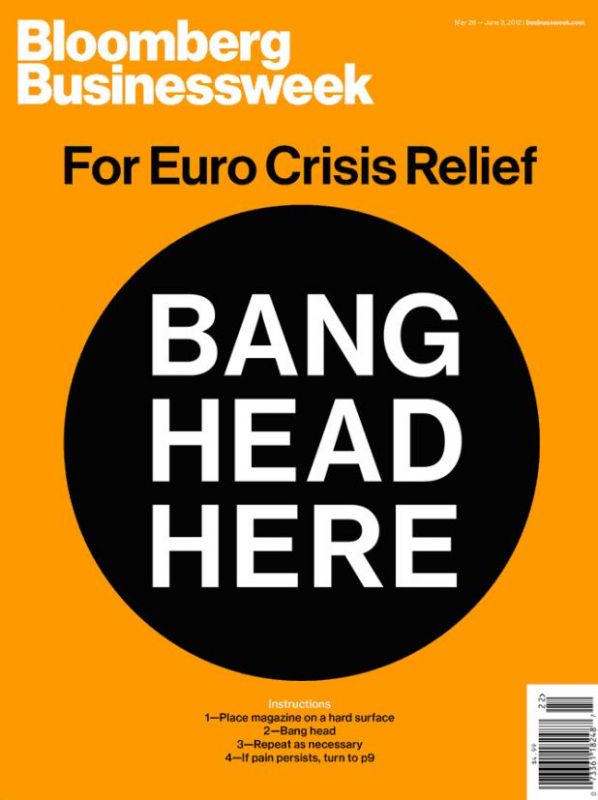 Cover of Bloomberg Businessweek special report on euro crisis.
This chart of personal income may reflect the painful but necessary adjustment in U.S. labor costs, or may be a signal of something else. A lot is going on in our economy despite the overall apparent stability.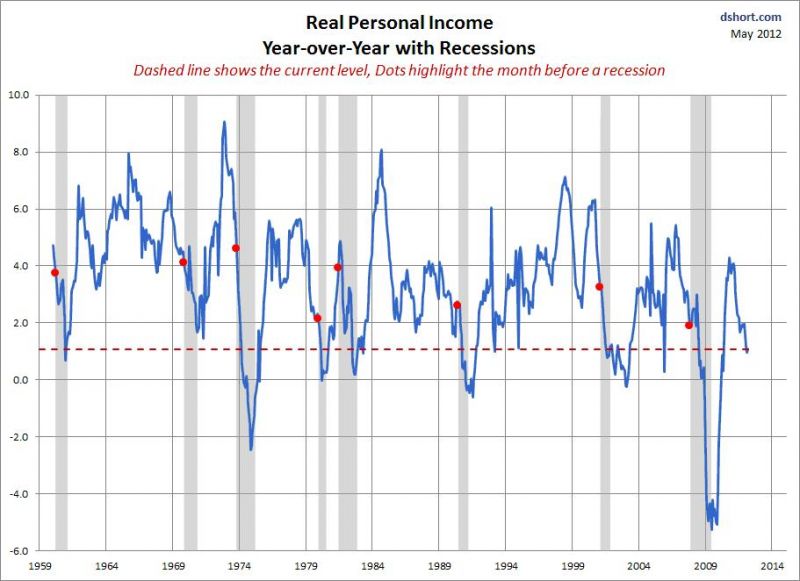 Source: dshort.com
The Economic Cycle Research Institute (ECRI) has been the market's most respected recession-caller, never wrong until … maybe now. It called a recession last fall, and has not backed off. Its chart is weak, but there is little in this economy following normal cyclical patterns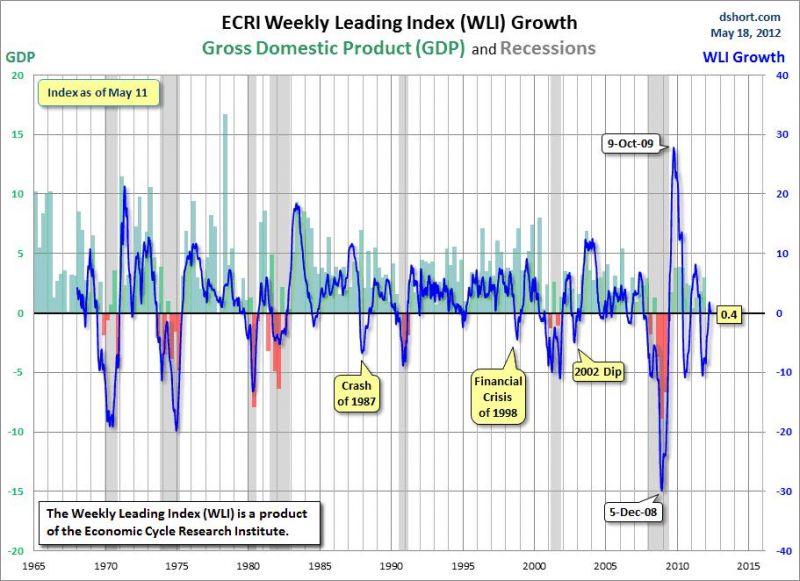 Source: dshort.com