Editor's note: The following item is republished with permission of houzz.com. See the original article: Home Offices That Earn Their Keep.

If your home office is a yawn or not doing its job, these design ideas for functional style can help boost its performance.
Whether your home office is the hub of a fledgling business or simply the nook where you pay bills and browse the Internet, you deserve to have a space that reflects your style and supports your needs. Join us as we take a look at eight beautiful examples and gather ideas to make your home office a place you look forward to spending time in.
How many people will be using the space? Will other members of your household need to use this space too? If you run a business from home, will you be seeing clients? If so, you may want to install a double workspace and add a few extra chairs to the room to accommodate visitors.
Style idea: Blend traditional elements (crystal chandelier, ribbon-trimmed drapes) with mod chairs and plenty of white for a look that feels current and fun.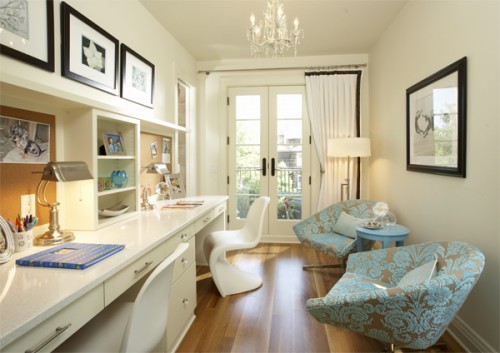 Photo credit: Martha O'Hara Interiors.
Do you run a paperless office? If the answer is yes, you might want to rethink your furniture needs. Many offices today can run quite efficiently with a simple table, a comfortable chair and good lighting. If you work on a laptop, you could even forgo the office altogether and simply set up your computer on the dining table or kitchen counter as needed.
Style idea: Consider using a wall-mounted lamp to save desk space.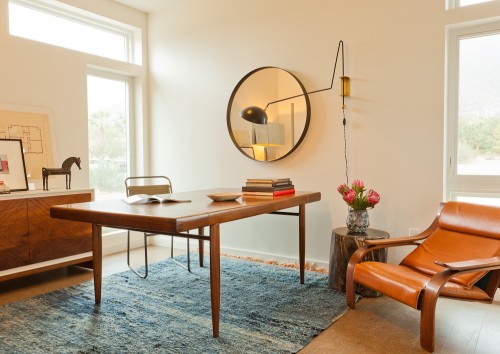 Photo credit: Izumi Tanaka Photography.
Or do you need lots of storage? Be honest. If you print lots of documents or have hard copies of important records that must be saved, you will need a more substantial filing and storage system. Don't scrimp! When you don't allow enough room for what you have, clutter gets out of control. That said, you may be saving more than you really need to, so don't go buy more storage when you could recycle excess documents instead.
Style idea: I am a huge fan of cubby-style shelving in the office. Cubbies take up less visual space than giant cabinets and armoires, and when used in conjunction with baskets, they easily keep things neat and orderly.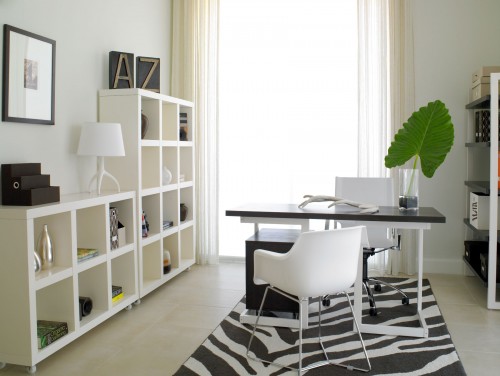 Photo credit: Causa Design Group.

More from houzz.com:
Copyright 2012 houzz.com