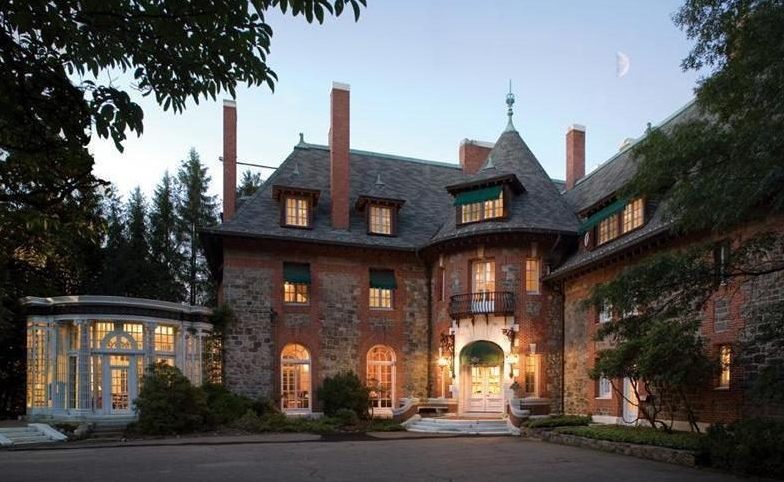 Click here to view the full photogallery.
Location: Tuxedo Park, N.Y.
Price: $12,000,000
The Skinny: Designed by the Beaux Arts-trained Vanderbilt cousin Whitney Warren — whose firm, Warren & Wetmore, penned the blueprints for Grand Central Station — this stunning American chateau is known alternately as Crow's Nest or Lindley Hall. Built from local fieldstone and brick, the 25,000-square-foot mansion displays the architectural influence of France, but with American materials.
Crow's Nest was constructed for society banker Henry Whitmore Munroe and features an astounding 17 bedrooms, nine bathrooms, 17 fireplaces and a host of old-world finishes. There are rooms paneled in intricately carved African mahogany, an elegant formal living room, and a glassed-in, oval conservatory. All of this is set on 15 forested acres with a swimming pool and tennis courts.
There is one downside. In the 1960s, ownership of the mansion passed to a Catholic college, which added a large, unsightly classroom wing to the rear of the building. The cost of demolishing that eyesore has, according to former tenant John Foreman, "intimidated subsequent owners ever since the house reverted to single-family use." Still, it remains a rare and wondrous piece of Gilded Age history, today listed for $12 million.
Source: Town Residential
View the original item at Curbed.com: "A Tuxedo Mansion from the Architect of Grand Central Station," by Rob Bear.
More from Curbed.com's House of the Day:
Copyright Curbed.com 2012