Markets show justifiable concern at a steady flow of soft data all over the world, but it's hard to figure disappointment that the Federal Reserve did nothing dramatic this week.
The Fed's QE (quantitative easing) operations have been designed to pull down long-term interest rates, to prevent runs on banks, and to ease credit. In the last 80 days the run from Europe has accomplished Jobs One and Two, cutting 10-year T-note yields by one-third, and all but drowned the U.S. system in cash.
The general shortage of credit is a different matter, a regulatory failure to which the Fed has formally objected repeatedly, yet compounded by its contribution to the national mania to overregulate.
Broad policy here is in European-quality disarray, the stimulus-austerity conundrum just as unresolved as there. Economic conditions here are far better, banks immeasurably healthier, our whole situation improved by our wise decision to form a national government before issuing national currency.
If we're in stimulus-austerity gridlock, what to do? What resource to draw upon? I have an idea, but you'll have to wait through a parable and a true story.
An unemployed economist at last gave up on finding a new position, swallowed his pride and took a construction job. His first-day task: to carry a pile of bricks down from the roof of a new 2-story building. After humping the first load, invention came to mind.
He tied one end of a long rope to a tree, pulled the other end to the roof-top, threaded it through a pulley on a beam at roof-edge, tied it to a barrel found there, and filled the barrel with bricks. Pleased with his plan to lower the bricks instead of carrying, he fairly danced down the stairs to the anchor tree.
In retrospect, he felt that his sole mistake was to hang on to the rope as he untied it from the tree. The loaded barrel, three or four times the weight of the economist, as it descended lifted him rapidly toward roof-top, and bashed him as they passed each other. Just as the man's fingers crushed into the pulley, the barrel struck ground, bricks breaking through the bottom, and the physics of the affair reversed, barrel whacking economist on its way back up and his transit down.
Onlookers felt the economist did make one further error. After landing on the pile of bricks … he let go of the rope.
Just a story. Another begins with the Great Society formation of Medicare and then Medicaid. Initial costs were trivial: in 1970 federal health programs were 0.7 percent of GDP. Today, about 4 percent of GDP, $769 billion last year. But as costs spiraled in the '80s, Congress moved more and more of the burden to the states via "unfunded mandate": Thou Shalt Spend, But Thou Shall Find Thine Own Revenue. Cumulative state health spending now runs another $400 billion, still growing at triple the consumer price index (CPI).
ObamaCare put all of its chips on coverage, nothing but argle-bargle to address cost. U.S. health care spending, public and private combined, is about 18 percent of GDP, only about half supported by tax revenue. Our peer nations spend about 10 percent of GDP and get the same results that we do (see T.R. Reid's "The Healing of America"). If we could cut costs by 6 percent of GDP, that would cut the overall federal deficit by 80 percent.
Unanticipated physics… Here in Colorado, health spending is now 33 percent of the budget; 40 percent goes to K-12, 14 percent to public safety, and higher education has been chopped to 8 percent (headed to zero). The higher-ed cuts have been displaced to tuition increases running quadruple CPI (the Corleones should have had it so good), in turn displaced to student loan debt, the only category of credit growing, actually exploding as in good ol' subprime days, a burden on youth without precedent.
The second half of Mr. Obama's unfortunate "The private sector is fine" paragraph lamented job cuts by state and local government. Skinflints are not at fault: runaway health care is the problem. Whether the Supreme Court cans ObamaCare doesn't matter. It will fail of its own weight.
Back to the austerity-stimulus conundrum, and one public resource sitting in plain sight, untapped: if we would use our silly damned heads we might get somewhere.
Thanks to www.calculatedriskblog.com — the fade in the dashed-green Philly-NY Feds' indices is a replay of last summer. Last year, Twist and residual QE helped to turn the show back up; this year we're on our own. Even if QE3 appears, its force and benefit are unclear.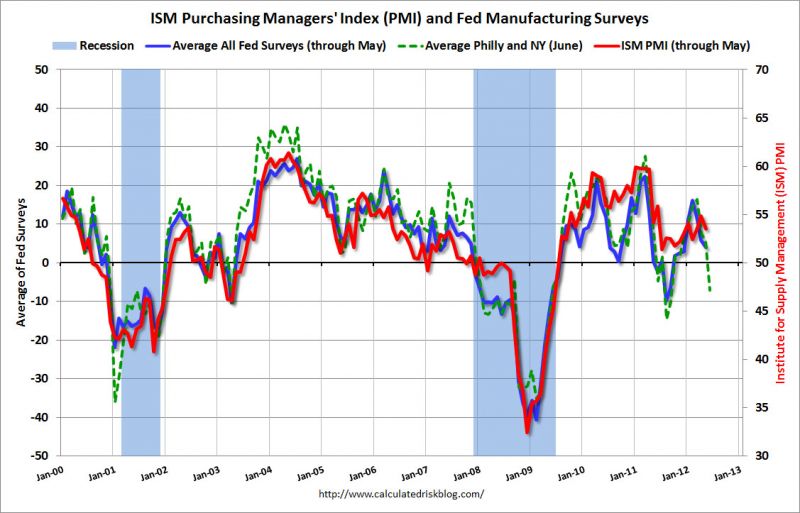 Source: CalculatedRisk blog.