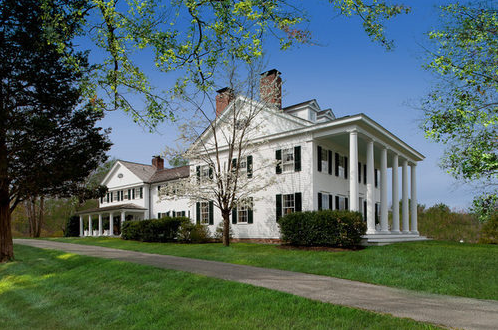 Click here to view the full photogallery.
Location: Millbrook, N.Y.
Price: $17,500,000
The Skinny: Despite being the ex-sister-in-law of Mr. Goldplateeverythinginsight, Donald Trump, socialite Blaine Trump keeps her home in Dutchess County in a much more subdued, preppy fashion. Or should we say kept? Trump, who divorced Donald's brother in 2008 after that Trump ran off with his secretary, has said previously that she considers this Millbrook estate, known as Linley House, home.
That may have changed once her ex-husband and his new beau moved in 10 minutes down the road. So now, Blaine has listed the 200-acre farm and the beautiful Greek Revival mansion for $17.5 million. The 20-room manse boasts seven bedrooms and 10 bathrooms, while the grounds include two private ponds, a swimming pool, a tennis court, barns, and a carriage house.
An interesting factoid: the Civil War-era mansion was moved to this site, atop a bluff, in 1990 and retains much of the historic detail one would expect from an old home. That's not to say there aren't some modern touches as well, like a 16-seat screening room.
Source: Houlihan Lawrence
View the original item at Curbed.com: "The Oh-So-Very Un-Trump Mansion of Socialite Blaine Trump," by Rob Bear.
More from Curbed.com's House of the Day:
Copyright Curbed.com 2012