The number of U.S. homes in the foreclosure pipeline remained near an all-time high in May with judicial foreclosure states posting inventory levels more than twice that in non-judicial foreclosure states, according to a monthly report from loan data aggregator Lender Processing Services released today.
The nation's foreclosure inventory stood at 4.1 percent of all active mortgages in May. This includes all loans that have been referred to an attorney for foreclosure but have not yet finished the foreclosure process through sale.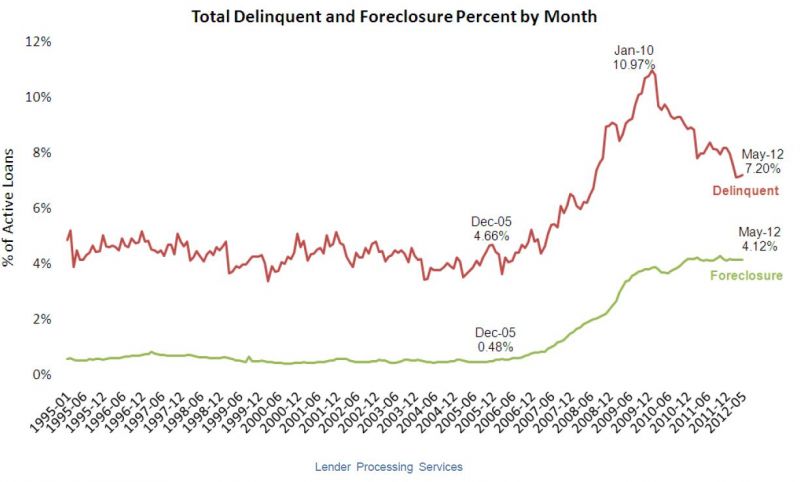 Right-click graph to enlarge.
That percentage doesn't show the "stark contrast" in foreclosure inventories between states that handle foreclosures through the courts and those that don't, said Herb Blecher, LPS Applied Analytics senior vice president, in a statement.
"In the former, 6.5 percent of all loans are in some stage of foreclosure — that's more than 2.5 times the rate in non-judicial states where only 2.5 percent of loans are currently in the foreclosure pipeline," Blecher said.
"Both these figures are significantly higher than the pre-crisis average of 0.5 percent, but it is worth noting that the average year-over-year decline in non-current loans for judicial states is less than one percent, whereas in non-judicial states, it's down 7.1 percent."