Rising home prices helped more than 700,000 homeowners regain equity in their homes during first quarter, but 11.4 million borrowers still owed more on their mortgage than their homes were worth, according to the latest report from data aggregator CoreLogic.
The number of U.S homeowners with negative equity declined by 6 percent in the first quarter compared to the fourth quarter, leaving 23.7 percent of all homes with mortgages underwater. That's down from 25.2 percent in the fourth quarter.
When the 2.3 million borrowers with less than 5 percent equity, which CoreLogic calls "near-negative equity," are included, 28.5 percent of mortgaged homes were either underwater or nearly underwater in the first quarter, down from 30.1 percent.
All told, negative equity nationwide totaled $691 billion in the first quarter, down from $742 billion the previous quarter. The decrease was largely due to home-price increases, CoreLogic said.
"In the first quarter of 2012, rebounding home prices, a healthier balance of real estate supply and demand, and a slowing share of distressed sales activity helped to reduce the negative equity share," said Mark Fleming, chief economist for CoreLogic, in a statement.
"This is a meaningful improvement that is driven by quickly improving outlooks in some of the hardest-hit markets. While the overall stagnating economic recovery will likely slow housing market recovery in the second half of this year, reducing the number of underwater households is an important step toward reducing future mortgage default risk."
Some 1.9 million borrowers were only 5 percent upside down in the first quarter, meaning further price appreciation could move them into positive territory.
Among states, Nevada had the highest share of mortgaged loans in negative equity (61 percent) followed by Florida (45 percent), Arizona (43 percent), Georgia (37 percent) and Michigan (35 percent), CoreLogic said.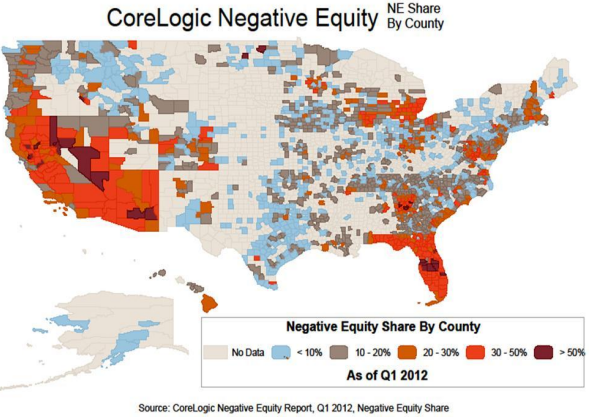 Negative equity is concentrated at the low end of the market, CoreLogic said. Among homes under $200,000, 31 percent were upside down, compared with 15.9 percent among homes worth more than $200,000.
The majority of the underwater homeowners — 6.9 million — had only a first mortgage with no home equity loans, and owed an average of $212,000 on their mortgages with negative equity averaging $47,000.
While 19 percent of these borrowers were underwater in the first quarter, the negative equity share among borrowers with both first liens and second liens was more than twice that, 39 percent. Those 4.5 million borrowers owed an average of $299,000 and were underwater by an average of $82,000.
Starting with this report, CoreLogic revised the methodology it uses to calculate negative equity and has therefore revised its historical data for both the nation and states.
Below are revised figures beginning with the third quarter of 2009.
Revised National Negative Equity
Time period
Negative equity loan count (in millions)
Negative equity share
Q1 2012
11.4
23.7%
Q4 2011
12.1
25.2%
Q3 2011
11.4
24.1%
Q2 2011
11.5
24.5%
Q1 2011
11.5
24.7%
Q4 2010
11.7
25.1%
Q3 2010
11.4
24.5%
Q2 2010
11.5
24.9%
Q1 2010
11.9
25.6%
Q4 2009
11.9
25.7%
Q3 2009
11.1
24.3%
Source: CoreLogic