Home prices saw the largest spring gain in a quarter century during the three months through May, but the sluggish economy threatens further price recovery, according to a monthly report from economists at real estate and mortgage data aggregator CoreLogic.
After reaching a low for the downturn in February, home prices rose 5.6 percent during the three months ending in May — the largest increase within the same three-month period in the last 25 years, CoreLogic said.
May was also the third consecutive month home prices posted year-over-year gains, increasing by 2 percent. Among the 100 largest metro areas, 71 saw price increases — the largest number since November 2006, according to CoreLogic.
A pending home price index from CoreLogic indicates that prices rose a further 1.6 percent from May to June.
Can home prices continue to recover even if the overall economy does not?
"The short answer is no, because prices are highly correlated to median incomes, which have not increased on an inflation-adjusted basis since 1996," wrote Sam Khater, senior economist for CoreLogic.
Prices are getting a particular boost in markets with a high share of "underwater" borrowers who owe more on their mortgages than their homes are worth.
"Negative equity is keeping many potential sellers out of the market, which keeps a lid on inventory and combined with the reduced flow of REO (real estate owned) properties has led to much tighter market conditions for lower-priced properties, particularly in the hardest-hit markets," Khater said.
"For example, Phoenix (up 14.7 percent) and Miami (up 9.7 percent) are the two fastest-appreciating very large markets, including distressed sales. But, even when excluding distressed sales, prices still increased 10 percent and 7 percent, respectively."
The recent price increases have pushed a substantial number of borrowers out of negative equity, particularly at the low end of the price spectrum, which is seeing prices rise at a rate more than three times that of homes at the upper end.
"National home prices below 75 percent of the median increased 5.7 percent from a year ago, compared to only a 1.8 percent increase for prices 125 percent or more of the median," Khater said.
"While the influence of home prices generally accrues to all properties, the much larger rise in prices for lower-priced homes helped improve the negative equity share more than it would have otherwise done, because negative equity has been highly concentrated among lower-priced homes," he added.
In the first quarter, only 26 percent of properties with loan-to-value ratios between 120 and 124 percent in the fourth quarter remained in that particular LTV category — the balance fell to a lower LTV category. By contrast, half of properties with LTV ratios between 60 and 64 percent in the fourth quarter remained in that category in the first quarter.
"The price increases for lower-priced, underwater properties are pushing these borrowers to lower LTV segments — or to extend the underwater analogy: closer to the surface," Khater said.
"The symmetry of low LTV segments begins to change for properties beyond 100 percent LTV, where beyond that point, a much lower proportion of borrowers are in the same LTV category in Q1 relative to Q4. The majority or near majority of borrowers in high LTV segments moved to lower LTV segments between the two quarters."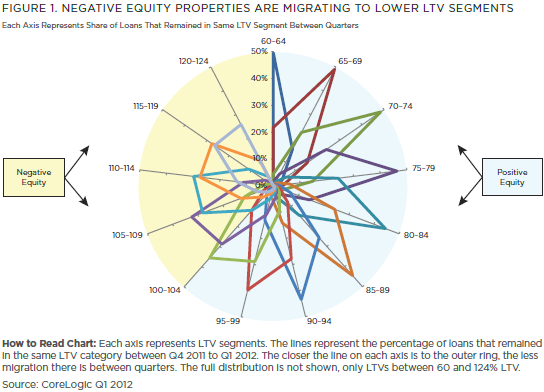 Markets where distressed properties still make up a high number of homes for sale — such as Atlanta and Chicago, which have each experienced price declines of about 4 percent — have yet to stage a comeback, Khater noted.
Given the sputtering economy as well as "lack of income growth, and the amount of shadow inventory still in the wings, which could replenish the flow of distressed sales, it will be difficult for prices to sustain their recent rate of acceleration," Khater said.
"But for the moment, at least there is some positive news about negative equity's impact on price increases in some markets."