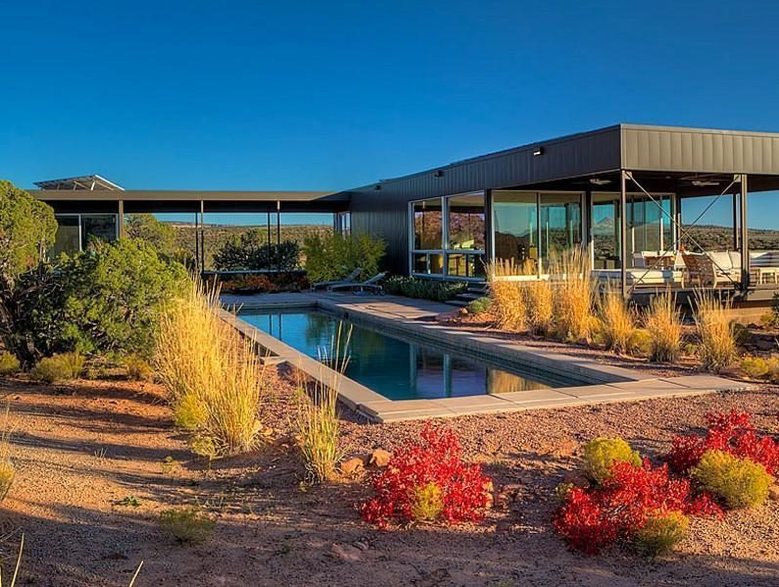 Click here to view the full photogallery.
Location: Moab, Utah
Price: $2,995,000
The Skinny: The Los Angeles-based architecture and building firm Marmol Radziner might be critically acclaimed, but the company's creations have not always been well received by the market. One of their prefab homes, in Desert Hot Springs, Calif., went up for sale in 2008 for $1.85 million, but sustained a series of huge price chops before finally selling last year for $600,000.
So that wasn't too promising! Nevertheless, another Marmol Radziner desert creation is coming to market, this one in the wilds of Moab, Utah. Set on 71 private acres encircled by protected government-owned land, Hidden Valley is a modern, two-bedroom, three-bath spread of 2,500 square feet, with a cooling swimming pool and open veranda with, thankfully, plenty of fans.
It is currently listed for almost $3 million, but, if history is anything to go by, this place will need a couple of price chops before finding a buyer.
Source: Sotheby's International Realty
View the original item at Curbed.com: "A Marmol Radziner Pre-Fab on 71 Acres of Utah Desert," by Rob Bear.
More from Curbed.com's House of the Day:
Copyright 2012 Curbed.com