VerticalResponse Inc. has upgraded its social media marketing services, adding a coupon-creation tool and a content-sourcing feature that allows users to "clip" websites for future social media posts when browsing the Web.
The San Francisco-based provider of social media, email and other marketing tools for small businesses, rolled out VerticalResponse Social, the company's social media platform, in June, six months after acquiring real estate social media marketing startup Roost. 
VerticalResponse has also added LinkedIn to its lineup of supported social networks, which also include Facebook and Twitter, and created an iPhone app.
As social media becomes more established in real estate, companies like VerticalResponse and Hearsay Social are offering to help real estate professionals use the medium to cultivate relationships and make more sales.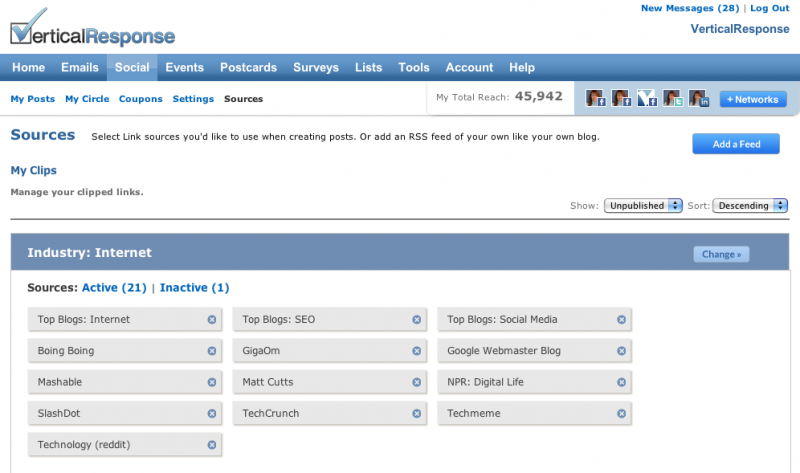 Screen shot courtesy of VerticalResponse.
It takes about two hours to prepare 10 business days of social media posts — three Twitter posts and one Facebook post each day — using the service, said Karen Gustafson, head of social media at BoulderHomeSource, a five-agent real estate company in Boulder, Colo., which has been a Roost/VerticalResponse Social customer for about a year.
Gustafson uses the service's suggested real estate industry-focused social media content (she mentioned CNN Money's real estate section, for example) directly or for inspiration for related post fodder. Other content sources include The New York Times and The Wall Street Journal, among others, said a spokeswoman for the company, Connie Sung Moyle.
Other real estate organizations using the VerticalResponse Social service, which costs $18 per month, or $9 per month when added to another VerticalResponse service, include the California Association of Realtors, the Virginia Association of Realtors and Arizona-based Long Realty.
VerticalResponse is still integrating the Roost database into its system, so the company doesn't have an accurate estimate of the total number of VerticalResponse Social users now, Moyle said. However, she estimates that real estate businesses make up about a third of the service's customers.
Looking ahead, the company has plans to add Google Plus and Pinterest as supported social media platforms, Moyle said.