Philadelphia-based Radian Guaranty Inc., has launched what it says is the first mobile application to offer mortgage insurance rate quotes.
Radian Guaranty Inc., a private mortgage insurance and risk management provider, is a subsidiary of Radian Group Inc.
The new app, Radian Rates, is free and available in the Apple App Store for the iPhone and iPad. The app is a mobile version of the company's existing online rate finder, which allows lenders to input loan criteria such as loan-to-value ratio, FICO score, property type and debt-to-income ratio. The app then returns mortgage insurance rates for several different types of Radian products.
"With the Radian Rates app, our lending partners can access our rates in seconds, wherever they are," said Brien McMahon, Radian's chief franchise officer and head of sales, in a statement.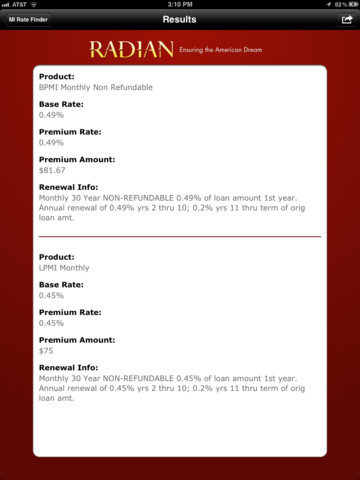 Screen shot of Radian Rates iPad app