Sales teams using the latest version of Woopra can now see important actions taken by their customers on their company's website or app — such as searches, sign-ups, upgrades and use of specific product features — displayed as events on a timeline.
Woopra's new customer profile tool can be embedded into customer relationship management (CRM) software like Salesforce, or linked to a website using a piece of developer code (a widget is also in the works).
The new customer profiles are searchable. Brokers who want to see all of their registered clients who have searched for homes on their site in a certain part of the city, for example, can generate search results with that filter.
Several Re/Max and Century 21 Real Estate franchisees are among the estimated 500 real estate-related websites that use Woopra now, said Natalie Issa, Woopra's marketing director. Roughly 200,000 websites use the service now, she said.
Woopra, which launched in 2008, also offers live monitoring and real-time analytics, live chat, and custom notifications of important visitor activity.
Woopra 7.0 tracks customer engagement across different devices used to access a website and revamps the way sales agents see their customer's behavioral patterns, said Elie Khoury, Woopra's co-founder and CEO.
Once a visitor registers to a Woopra-enabled site using an email address, the service starts collating all the data related to that visitor's use of the site or application. It will also collect all activity from the first time the visitor accessed the site.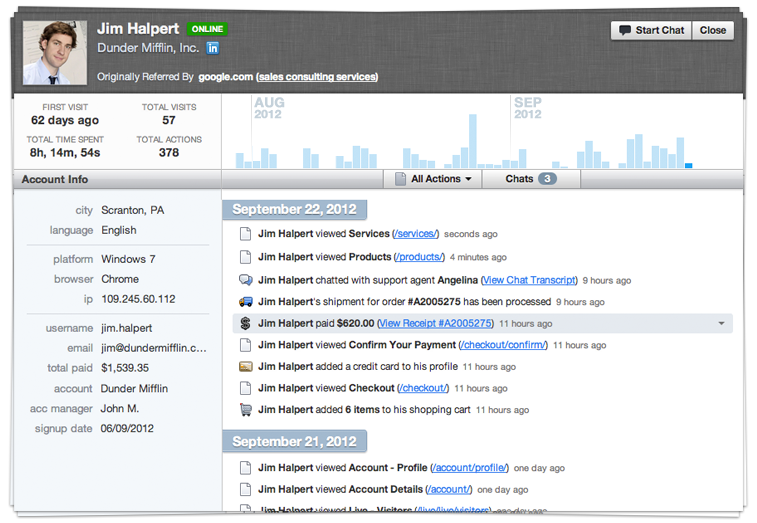 Screen shot of timeline in Woopra customer profile.
A free "basic" version of Woopra, restricted to noncommercial use, provides three months of data retention and a limit of 30,000 actions per month. At $11.95 per month, a "Silver" package allows for sharing with five agents, and includes one year of data retention and 200,000 actions per month. A $39.95 per month, "Gold"-level service includes sharing with up to 10 agents, two years of data retention, and 1 million actions. Higher levels of service are also available at additional cost.