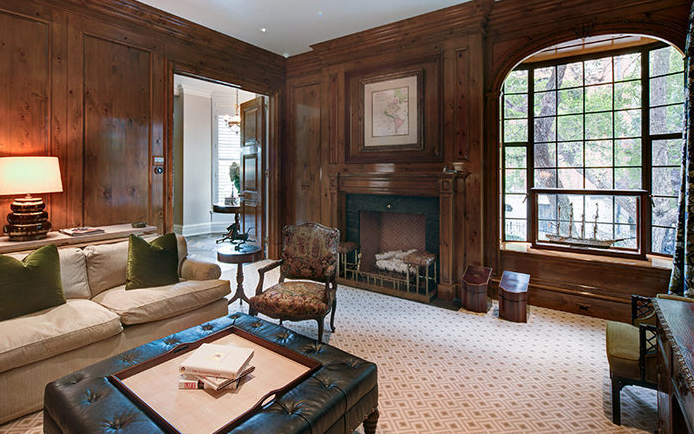 Click here to view the full photogallery.
Location: New York, N.Y.
Price: $48,750,000
The Skinny: "There is not in all New York another piece of property like it," the late landscape architect Ellen Biddle Shipman once said of this Manhattan townhouse, "for it has the seclusion of Beekman Place, southern exposure, beauty of architecture combined with the extended view of the East River." Shipman would know, because she lived there for many years and used the ground floor as an office for her firm, which did lanscape design work for some of the country's most prominent families, including the Vanderbilts, Rockefellers, Du Ponts, Mellons, Roosevelts, and Astors.
In 1925, following a split with her playwright husband, she had the house completely revamped by architects Butler & Corse. In 1946, she sold the property, and the intervening six decades were not too kind to her legacy. In 2001, a Florida businessman, William Rupp, purchased the townhouse and set about enacting some major architectural changes — like adding a gaudy front gate adorned with his initials — altering the interiors, and pissing off the neighbors. Relations between Rupp and his nearest neighbor got so bad that he constructed a two-story "spite wall" to block the adjoining property's view of the East River.
After Rupp passed away, his estate listed the property for $25 million. Financier Peter Novello, who kept an apartment at nearby 2 Beekman Place at the time, managed to snap it up for $10.6 million and set about returning the place to its architectural glory. He also knocked down much of the "spite wall." Now, he's prepared to let his pet project go, but the cost of being the new good neighbor is hefty, a whopping $48.75 million to be exact.
Sources: Brown Harris Stevens via Streeteasy, Curbed NY, New York Times
View the original item at Curbed.com: Landscape Legend Ellen Biddle Shipman's Townhouse Relisted by Rob Bear.
More from Curbed.com's House of the Day:
Copyright Curbed.com 2012