Pittsburgh-based Howard Hanna Real Estate Services Inc. has expanded into Michigan by acquiring Edward Surovell Realtors, a 10-office brokerage with 200 sales associates in the southeastern corner of the state.
With the addition of Ann Arbor-based Edward Surovell Realtors, Howard Hanna now operates 144 offices in three states, including Pennsylvania, Ohio and Michigan, and franchises 40 more offices, including five in New York and three in West Virginia.

Howard "Hoby" Hanna IV
Howard Hanna, which signed a seven-figure advertising deal this year with Zillow and Realtor.com, announced last month that a Columbus, Ohio-area franchisee, Howard Hanna Realcom Realty, had expanded into several small towns around Columbus and added 50 agents since affiliating with the company at the beginning of 2012.
Howard "Hoby" Hanna IV, who oversees Howard Hanna's Ohio operations, will now oversee Michigan as well, as president of the company's Midwest region.
Hanna said Edward Surovell, founder, president and CEO of Edward Surovell Realtors, will become chairman of Howard Hanna Michigan.
Howard Hanna Real Estate Services service area map.
Surovell said all staff and sales associates will remain with the company through the transition.
"We chose to join forces with the Hanna Company as it models our own company, in that both are family-owned and operated with an emphasis on professional excellence, full-time sales associates and a full line of real estate-related services," Surovell said in a statement.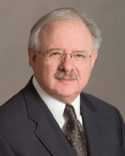 Edward Surovell
The proximity to the University of Michigan, based in Ann Arbor, and its medical center partly inspired the expansion of the company's footprint around Lake Erie into Michigan, said Howard Hanna III, chairman and CEO of Howard Hanna.
"We know 'eds and meds' are a strong force for a region producing low unemployment rates and stable home prices," Hanna said in a statement.
Founded in 1957, Howard Hanna Real Estate Services says its agents handled 34,292 transaction sides last year involving sales of homes valued at nearly $6 billion. Real estate consulting firm Real Trends Inc. ranked the brokerage as the nation's fourth largest in 2012 by transaction sides.
Other companies under the umbrella of parent company Hanna Holdings Inc. include the company's mortgage lending division, Howard Hanna Financial Services Inc.,; Howard Hanna's wholly owned  title and escrow company, Barristers Land Abstract Co.; Howard Hanna Insurance Services; and Hanna Appraisal Services.
The company said it will introduce mortgage banking and insurance services to its clients in Michigan later this year, which will compliment offerings from Surovell Property Management, Corporate Relocation, Title & Closing and Real Estate Brokerage.