Visitors to Realtor.com today are seeing a redesigned website that's been in beta testing for the last couple of months.
The key features of the simplified, more-open design include a larger home search form higher up on the home page and a wider main layout of 1,020 pixels throughout the site.
Search results pages also saw a big change in the redesign, said Scott Boecker, chief product officer for Realtor.com operator Move Inc. Search filters now show up as a header, allowing the page to shift to a two-column format, which allows more prominent display of search results, he said.
Realtor.com competitors Zillow Inc. and Trulia employ a similar clean, wide layout.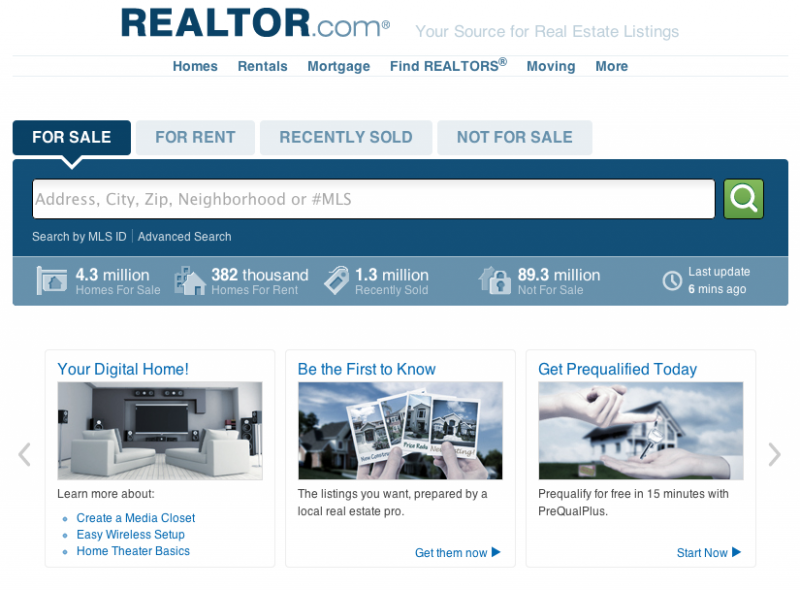 Screen shot of the redesigned Realtor.com home page view for a first-time visitor.
Realtor.com's new website also "remembers" visitors' previous search activities, Boecker said, and displays details related to their previous searches, like recently viewed listings, and recent search criteria, on the home page when the user revisits the site. Zillow and Trulia have similar features.
The new design, not mobile-optimized, as yet, also features a map view of home search results that extends to the width of a user's browser window. The enhanced map view is part of Move's effort to track the Web version of its site with its mobile versions, Boecker said.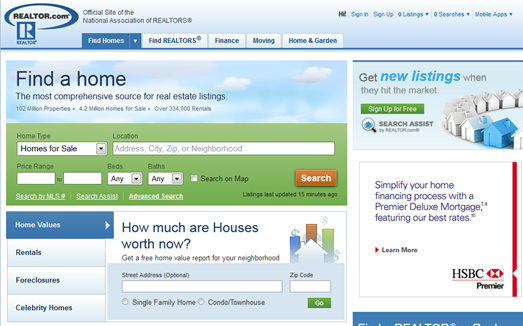 Screen shot of Realtor.com's previous home page.
In the future, Boecker said, Move is looking to enhance the site's adaptations to visitor use. The site could "remember" whether a user prefers map-based searches to a list view, for example, he said.
Move operates Realtor.com under the terms of an agreement with NAR. It's been about two years since the last Realtor.com update, which took place after Move and NAR signed off on an amendment to the Realtor.com operating agreement that gave Move more leeway to make changes to the site.
The updated Realtor.com operating agreement paved the way for Move to begin running unbranded "Connection for co-brokerage" lead forms next to some listings, a move that proved controversial with some brokers.