Neighborhood info and ratings website StreetAdvisor has launched a new paid service that allows brokerages to white-label the site's consumer neighborhood reviews and insight, promote their agents as prominent local experts, and create a custom-designed, branded version of the site.
StreetAdvisor Pro, launched in beta earlier this year, was built to integrate the StreetAdvisor's social-engineered platform into a brokerage's own website, said StreetAdvisor co-founder Adam Spencer.
By licensing a white-label version of the platform, brokerages can customize and brand the service, which features consumer neighborhood reviews and local "expert" Q&As. Brokerages licensing the platform can create a page highlighting their agents as neighborhood local experts, and display StreetAdvisor content fenced to their location.
New York-based Houlihan Lawrence is one of the first brokerages to sign up for the new service. Houlihan Lawrence's StreetAdvisor Pro site runs as a "social" subdomain off of Houlihan Lawrence's main website.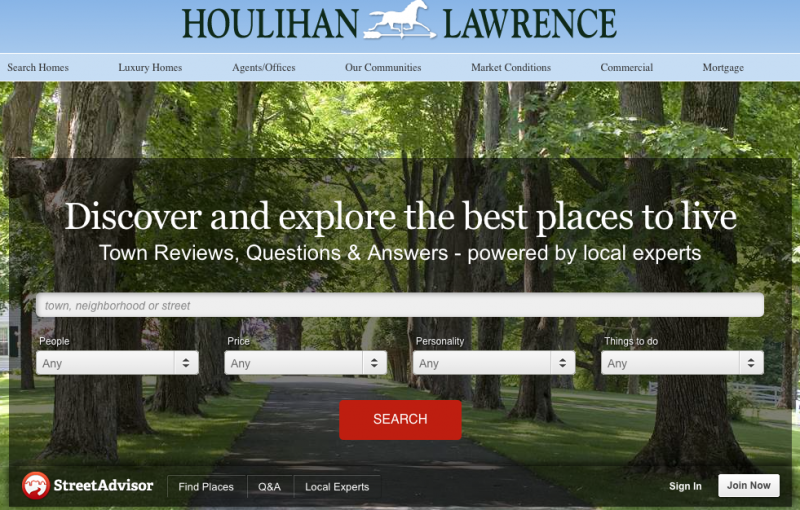 Screen shot of Houlihan Lawrence-branded StreetAdvisor Pro website.
"Local content has always been important to us, and integrating StreetAdvisor Pro into our website offers a fantastic way for us to leverage high-quality content right where we need it," said Chris Myers, chief operating officer of Houlihan Lawrence, in a statement.
With 1,200 agents, Houlihan Lawrence claims to be the largest independent residential brokerage in New York's Westchester, Dutchess and Putnam counties.
Cincinnati-based brokerage Comey and Shepherd Realtors has also licensed StreetAdvisor Pro, Spencer said. Other large brokerages have signed up, too, he said, and will be going live soon.
Neighborhoods have been called the last frontier of online real estate, and companies are beginning to launch products attempting to rope them in.
Walk Score, which launched as a commuting information-focused website, recently introduced a crowdsourcing neighborhood feature that allows users to create custom neighborhood tours, among other info.
Other rising neighborhood-profiling companies targeting the real estate industry include NabeWise, which provides a "flavor" rating for neighborhoods in popular cities, including those overseas; BlockAvenue, a New York City-focused (as of now) site, which includes Facebook-enabled location reviews; and Nextdoor, a neighborhood-focused social media site. Inman News columnist Tara-Nicholle Nelson reviewed some of the sites in a recent article.