Over half of U.S. metro areas saw an increase in foreclosure activity from September to October, but foreclosure-related filings nationwide were down 19 percent from a year ago, according to the latest report from foreclosure data aggregator RealtyTrac.
The number homes subjected to default notices, scheduled auctions or bank repossessions in October rose on a monthly basis in 113 of the nation's 212 metro areas with a population of at least 200,000, RealtyTrac said. One in every 706 U.S. housing units was subjected to a foreclosure filing during the month, a 3 percent increase from September.
Bank repossessions were down on an annual basis for the 24th month in a row. At 89,209, foreclosure starts, were down on an annual basis but rose 2 percent from September.
Foreclosure starts — default notices or foreclosure auctions, depending on the state — were up 54 percent in Nevada, followed by Tennessee (52 percent), Minnesota (28 percent), North Carolina (26 percent) and New York (17 percent).
For the second month in a row, Florida had the highest foreclosure rate of all U.S. states, with one in every 312 housing units receiving a foreclosure-related filing in October, about twice the national rate.
Nevada had the second-highest foreclosure rate (one in every 352 housing units), followed by Illinois (one in every 356 housing units), California (one in every 379 housing units) and Arizona (one in every 420 housing units).
A separate report from ForeclosureRadar showed foreclosure cancellations were up 62.1 percent from September to October in California. ForeclosureRadar attributed the growing number of foreclosure cancellations in California to the state's Homeowner Bill of Rights, which prohibits practices such as "dual-tracking" and goes into effect Jan. 1, 2013.
RealtyTrac's October data showed that some hard-hit metros saw big foreclosure jumps in October, including Modesto, Calif. (up 68 percent), Sarasota, Fla. (up 53 percent), Las Vegas (up 45 percent), Columbus, Ohio (up 61 percent) and Columbia, S.C. (up 58 percent).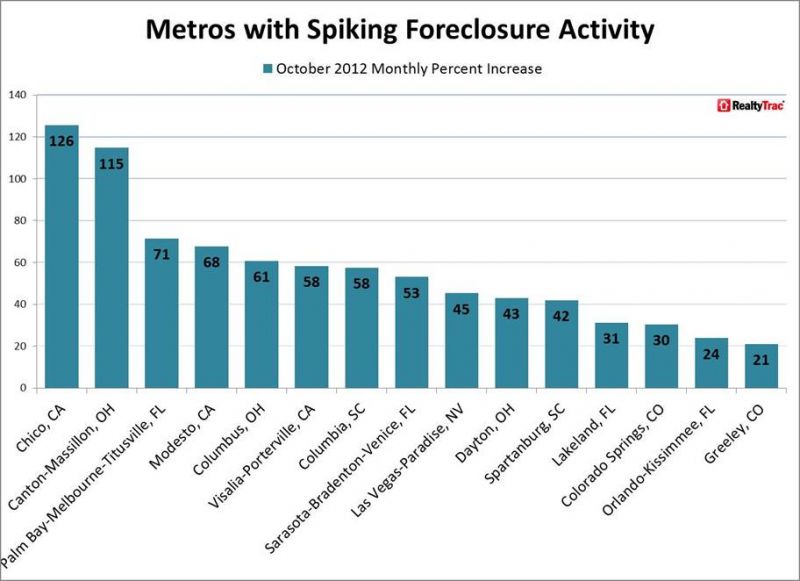 Source: RealtyTrac
In the third quarter, the proportion of homeowners with mortgages who owed more than their homes were worth dropped 2.7 percent, to 28.2 percent, according to real estate marketplace Zillow's third quarter negative equity report. It's the first time negative equity has fallen below 30 percent since Zillow started tracking the data in first quarter 2011.
Despite the positive trend for underwater homeowners, if the U.S. government fails to resolve its budget deadlock in the coming months, investor and homebuyer confidence could dwindle and depress home prices, said Zillow chief economist Stan Humphries.
Of the largest 30 metros covered by the report, the five that saw the largest declines in negative equity in the third quarter from the second were: Phoenix (-6.2 percent), Las Vegas (-5.5 percent), Denver (-4.9 percent), Sacramento, Calif. (-4.6 percent) and Orlando, Fla. (-4.2 percent).