A San Francisco-based real estate startup launched a transaction management system today it says will help real estate agents save time, money, and frustration.
Reaslo Inc., which does business as Reesio, is a real estate technology company and a licensed California brokerage founded in January. Reesio originally began as a flat-fee firm that offered to help home sellers in California advertise their home in the local multiple listing service, and provided tools to automate transaction paperwork and tasks normally handled by agents.
But shortly after the launch of its for-sale-by-owner platform, the company changed its business model to focus exclusively on a platform for real estate agents.
In making the change, Reesio became an even more direct competitor to companies like dotloop and Cartavi, each of which provide a paperless transaction management platform for real estate professionals.
Reesio began a "soft launch" of its agent platform at the beginning of October and completed the full rollout today. The platform is targeted at both buyer's agents and listing agents and allows them to create a transaction and invite their clients and third parties such as appraisers and loan officers to Reesio's cloud-based dashboard.
Likely the most important difference between Reesio and its competitors is the platform's design and user experience, the company said.
"In talking to numerous real estate agents and studying other products, it became painfully clear that agents were most frustrated by the confusing user experiences and stale design of other technologies," said Mark Thomas, the company's co-founder and CEO, in a statement.
"With Reesio, our top focus is creating such a delightful customer experience, that customers can't imagine going back to the old way of doing things."
While other transaction management systems may only focus on documents, digital signatures, and electronic sharing, Reesio also incorporates other transaction elements such as property showings and offers, Thomas said. The platform offers unlimited document storage and incorporates e-signatures from DocuSign. 
"Many other technologies forget that there is a lot more to a real estate transaction than just automating paperwork," Thomas said. "We want to go beyond the paperwork and e-signing and create a complete end-to-end experience for all users."
Sample screen shot of Reesio dashboard 
Reesio is also building a "smart" system that automatically alerts transaction parties to what they should do next based on prior actions they or other parties have taken, Thomas said.
"For example, based on the number of contingency days that are put into an offer, the buyer will automatically be alerted a couple of days prior to the expiration date that they need to remove contingencies," he said.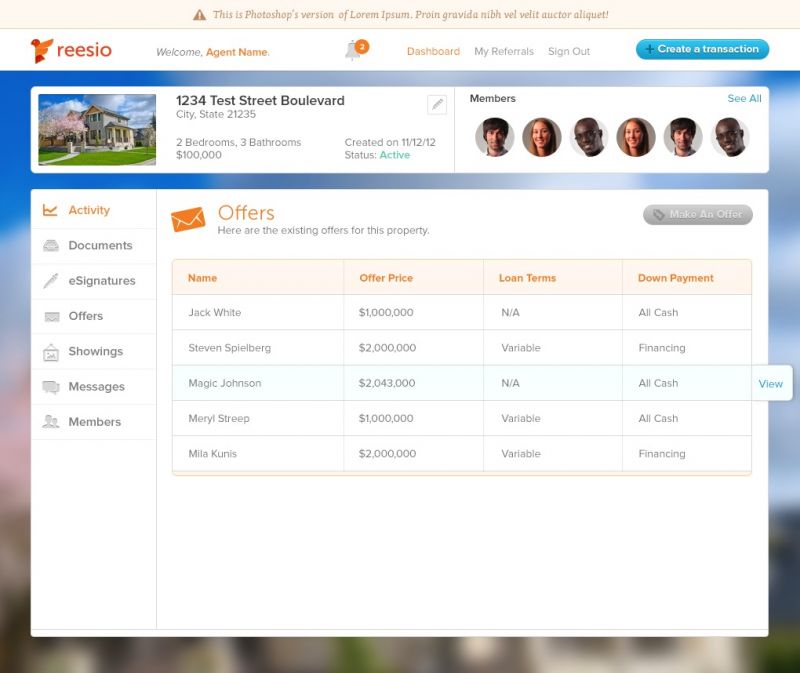 Sample screen shot of Reesio dashboard  
The platform includes an activity feed modeled on feeds from private social network Yammer that show who has taken what actions.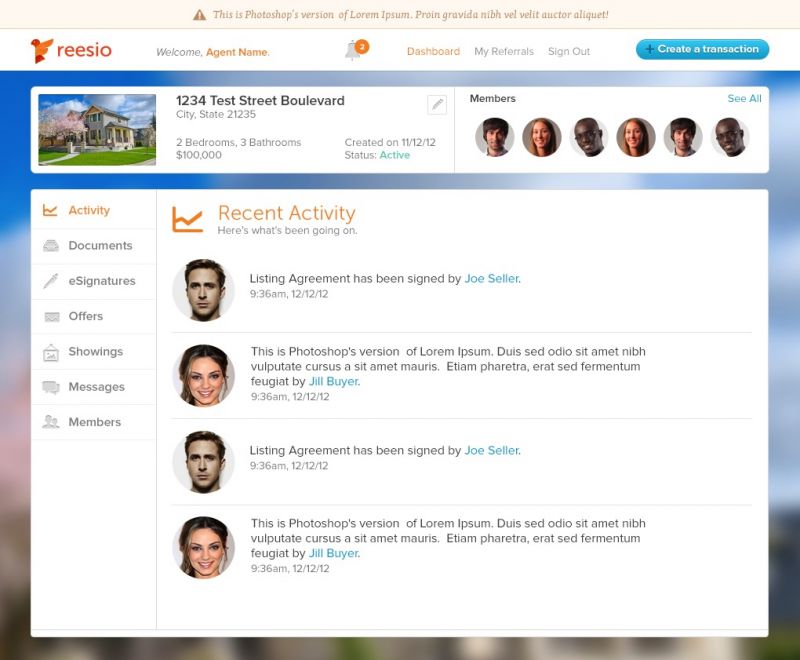 Sample screen shot of Reesio dashboard   
Both the notifications and every party's ability to see what is going on through Reesio's dashboard free agents up to spend less time nagging their clients or providing status updates and more time on activities that will provide a higher return on investment, Thomas said. The platform also lends transparency to the process, he added.
"A frustration that we found from buyers and sellers is not knowing what happens next in the process, or what the status of certain things (like a pending offer) is. With Reesio, everyone has complete transparency into the entire process and knows exactly where things stand," he said.
Reesio dropped an initial idea to prepopulate the platform with every transaction document required by a specific state. Therefore, while previously only available in California, Reesio's platform is now available in all 50 states.
During the soft launch period, "a recurring piece of feedback that we heard from (agents) over and over again was that they didn't really care about our product prepopulating their documents because so many documents vary by office, let alone by state, and they change all the time," Thomas told Inman News. 
"So it didn't make sense for us to worry about that. Instead, it made more sense to just allow agents to upload their own prepopulated documents, and then our product does everything for them from that point on."
Reesio's platform is available on a subscription basis at $49 a month or $495/year. The company offers discounts to brokerages with multiple agents on a case-by-case basis. The first transaction created on Reesio is free; agents are only asked to pay once they create a second transaction. Agents invited to other agents' transactions on Reesio can use the platform at no charge until they create their own second transaction.
"Most agents we talked to use a combination of four to six different technologies and other services that they pay for to manage their transactions, which on average can cost anywhere from $100-$300 per month. With Reesio, agents can ditch their multitude of technology subscriptions, and just subscribe to Reesio," Thomas said.
"That way, not only are agents saving time by combining everything all in one place, but they're also saving money when compared to subscribing to multiple technologies that cost more."
The company plans to eventually make the platform more social, Thomas said.
"We definitely see in the very near future adding a community of agents, clients, and third parties that can all interact with each other. We already have some of the components of that in place, such as the Yammer-style activity feed that we offer (and) the in-product messaging system," he said.
The company is in talks with some MLSs and other online real estate technology companies to explore partnerships, Thomas said.
Reesio is applying today to a tech incubator, REach, launched by the National Association of Realtors earlier this month. 
The company is also raising a seed round; Thomas declined to provide details, citing Securities and Exchance Commission (SEC) requirements.