A local Realtor trade group based in Wilmington, N.C., will soon have a new website that allows its members ready access to a Rapattoni Corp. multiple listing service system the group has decided to keep for years to come.
The Wilmington Regional Association of Realtors, which has about 1,700 members, signed a multiyear contract extension for Rapattoni MLS this week. The association also signed a new contract for Rapattoni's Integrated Website Service, which launched on May 1.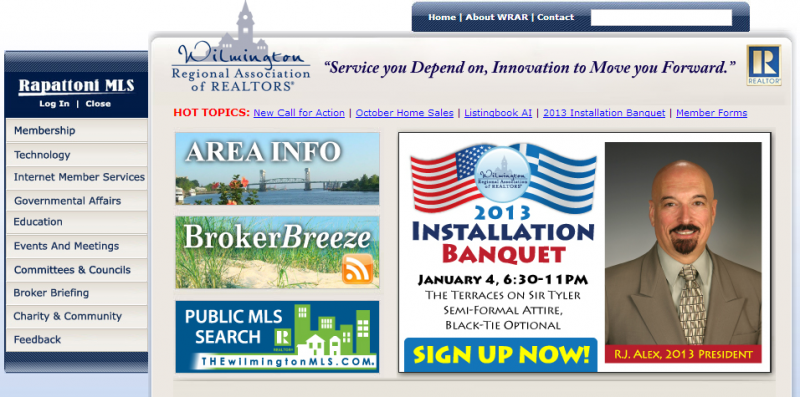 Wilmington Regional's current website home page  
The service allows association staff to create a website whose articles, menus, styles, colors and other content are customizable. Document management, social media tools, calendars, member forums, online member polling, and blogging are also included, the company said.


Rapattoni IWS home page for the Ventura County Coastal Association of Realtors  
The website will integrate with Rapattoni MLS as well as Rapattoni NetMagic, the company's association management software which includes a feature that allows association members to pay their dues, register for classes and otherwise interact with the association online.
Rapattoni MLS serves about 200,000 users nationwide. It is compatible with the Internet Explorer and Firefox Web browsers, and can be operated natively on PCs and Mac computers; it also works on most popular tablet devices and has a touch-based interface, the company said.
"We are pleased to extend our contract for the Rapattoni MLS. The easy-to-use graphical interface with customizable features makes it easy for us to provide our members with the powerful tools they need," said Jerry Panz, CEO of Wilmington Regional, in a statement.
Wilmington Regional has had a relationship with Simi Valley, Calif.-based Rapattoni Corp. for more than a decade, said Ralph Hoover, Rapattoni's senior vice president and chief operations officer, in a statement.
"We are looking forward to bringing their members many exciting new features, including our mobile interface in early 2013," he said.