Doorsteps, a service that allows agents to help buyers research and organize their home purchases, is now offering free tools directly to consumers, the company said today.
Launched in 2012, Doorsteps has until now been marketed to real estate agents who pay a flat fee of $25 a month to sign up buyers, who use the system to complete the many steps to completing a home purchase.
Now, would-be homebuyers who aren't yet working with an agent can sign up and use the system for free. The Doorsteps platform also acts as a forum that connects homebuyers to agents, lenders and other service providers like movers and inspectors.
"The goal (of the platform) was to ensure every Doorsteps user had unparalleled insight about how to optimize each decision in their own best interest," said Doorsteps founder Michele Serro in a statement.


Michele Serro
As buyers progress through the step-by-step system, Doorsteps slowly builds out a "Buyer Profile" for them. Users not connected with an agent can choose to be matched with Doorsteps agents or lenders, using information contained in their profiles. Buyers can also pick agents, lenders, and other service providers — including those outside the system — on their own, Serro said.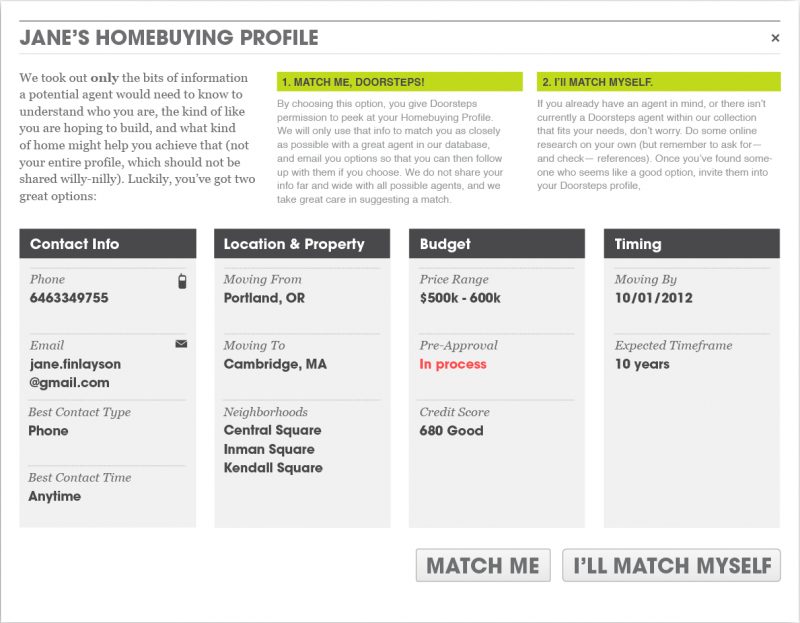 Homebuyer sample profile on Doorsteps.
"Doorsteps' journey-based experience and the rich data that it collects translates into a far higher conversion rate than other lead generation tools," Serro said. It's a way for agents, lenders and service providers, who pay a partnership fee for leads received from Doorsteps, to reach qualified buyers, she said.
Currently, Serro said, about 3,000 agents and 6,000 of their connected buyers use the system. After a soft launch of the agent-independent consumer platform a couple of weeks ago, about 3,000 additional consumers have started using the system, she said.