In a world where "real estate porn" may attract hundreds, thousands or millions of visitors to websites, real estate professionals can find it difficult to distinguish the virtual lookie-loos from the active homebuyers.
Charleston, S.C.-based real estate marketing software company BoomTown has come up with one solution: an "Opportunity Wall" that generates a prioritized list of hot leads based on real-time consumer behavior on a real estate site.
The new tool is part of BoomTown's leads management system and uses a patent-pending algorithm to track the actions of users who supply contact information.
The kinds of leads, or "opportunities," the tool highlights include a newly registered lead assigned to an agent; a newly registered lead returning to an agent's website within a week and currently online; a lead that had been inactive for more than 60 days returning to and currently on an agent's site; and a lead currently showing high interest in a particular property by marking the property as a favorite, viewing the listing multiple times, using the site's mortgage calculator, or viewing the property on an agent's mobile site near the property itself, BoomTown said.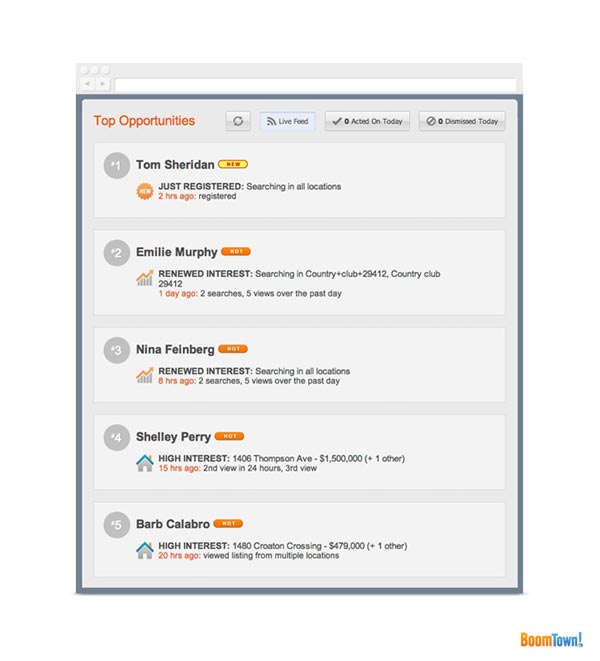 Sample screen shot of Opportunity Wall 
An "Opportunity Details" page keeps track of how long a user has been registered, his or her contact information, logged emails or phone calls to an agent, recently viewed homes, and preferred home search price ranges.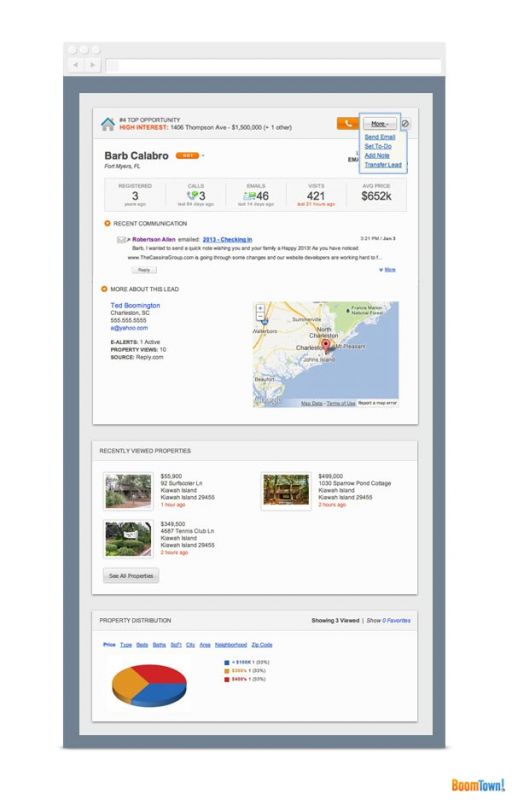 Sample screen shot of Opportunity Details page 
"We have a tremendous amount of visitor behavior data at our fingertips and our team is using that data to provide intelligent recommendations for lead follow up," said Don Sedota, BoomTown's director of product management, in a statement.
The Opportunity Wall helps agents determine where to focus their time and energy and follow up with prospects at the right time and armed with relevant information, the company said.
"Generating new leads will always be a critical part of the equation; however it's not the quantity of leads that matters. It's what you do with those leads after they provide contact information that truly impacts your business," said Grier Allen, CEO and president of BoomTown, in a statement.
"We now have a way to give our clients real-time, actionable leads in a prioritized list. This will drastically change the way that BoomTown users prioritize their time."
BoomTown plans to release a mobile version of the Opportunity Wall soon, the company said.
BoomTown was ranked one of the 5,000 fastest-growing private companies in the U.S. last year, coming in at No. 96 on the overall list and No. 8 in the software category. The company's revenue grew 3,085 percent between 2008 and 2011, to $4.6 million, up from $2.2 million in 2010. The company grew from three employees in 2008 to 38 employees in 2011.
In December 2011, BoomTown rolled out an automated drip marketing tool, Smart-Drip, which offered more personalized and accurate messages and improvements based on campaign performance.