By TEKE WIGGIN
A new Internet browser plug-in from CensusConnect Realty allows users to supplement the information they see when surfing listing sites like Realtor.com and Zillow with block-level data mined from U.S. Census Bureau records.
Touted as the first real estate product to display neighborhood data around properties at the "micro" level, the CensusConnect plug-in paints a lucid portrait of a property and its neighborhood for buyers.
"In many cities, neighborhoods can vary wildly within a few blocks, and so 'block level' data is critical to providing accurate neighborhood information," developer CensusConnect Realty said in a statement.
The program also offers a glimpse of how listing portals may themselves be able to utilize micro demographic data now available through the recently debuted Census Bureau APIs.
"We saw nobody with 2010 block-level census" data, said CensusConnect's creator, Carl Manganillo. "Literally, the block-level data was not available until about six months ago."
Trulia wouldn't reveal whether it intends to use Census Bureau APIs to provide neighborhood-level data in the future, saying it "can't comment on specific future product plans." A Zillow spokeswoman said she would look into how the company uses Census data and whether it had any plans to take advantage of the new APIs.
Searching through brokerage websites or major listing portals like Trulia, Zillow and Realtor.com, users may use the plug-in to view neighborhood demographic data, as well as detailed property information, at the bottom of every listing result.
Some of the information that users may opt to display includes a neighborhood's owner-to-renter ratio, ethnic composition, unemployment rate, average household income, and college graduation rate. Major listing services currently offer some of this data, but not at the neighborhood level.
The service even provides information on the number of sex offenders within a square mile, with their exact names and addresses appearing when a user moves a cursor over text at the bottom of a listing result that reads "sex offenders in 1 mile."
The plug-in is compatible only with Google Chrome, but Manganillo said his company intends to roll out versions for Firefox, Safari and Internet Explorer in the months ahead.
According to Web analytics firm StatCounter, Chrome surpassed Internet Explorer as the world's most popular Web browser in March 2012. StatCounter estimates that Chrome had 32.43 percent of the worldwide browser market in May 2012, while Internet Explorer and Firefox had market shares of 32.12 percent and 25.55 percent, respectively. 
CensusConnect users may obtain an even more nuanced picture of a property and its neighborhood by clicking the "Detail" link at the bottom of a listing result. The link generates a pop-up map that allows users to view data for larger geographic regions than just block-level locales.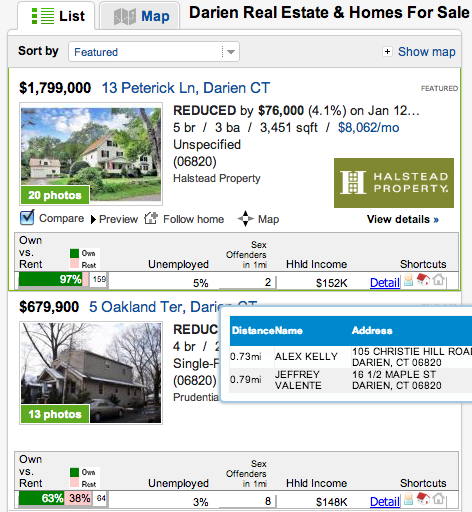 Screen shot of CensusConnect plug-in being used to surf listings on Trulia.
CensusConnect retrieves and displays data from the Census Bureau's APIs. Manganillo said the APIs were created in 2012, and offer 2010 data on geographic regions sometimes as small as a single block.
Major listing services don't appear to have utilized the Census Bureau's API to display block-level data yet. For now, Manganillo said, the websites have been able to narrow demographic data down to a town level only. They do so by purchasing census data and loading it into databases, rather than by communicating with census APIs, he said.
Websites like Trulia and Zillow also appear only to cull 2000 Census Bureau records, not the more recent 2010 data. And, unlike CensusConnect, they require users to visit different site pages to access demographic information.
Manganillo predicts that all of that will change, however.
"I'm sure now that this block data is available, people are going to start using it a lot more," he said. "[The Census Bureau] is trying to encourage a lot of people to use it to. It's a very fast API."
While the plug-in certainly puts a trove of granular data at a user's fingertips, it also appears to have an impact on the time it takes to load listing detail pages. The plug-in is available for download at www.census-connect.com. After a brief trial session, users must pay $2.99 to continue to use the plug-in.