Builders started construction on new homes in January at a pace that suggests last year's upswing in construction is sustainable despite a slight month-over-month dip.
At a seasonally adjusted annual rate of 890,000 units per year, January new-home starts were down 8.5 percent from the month before, but up 23.6 percent from a year ago, according to the latest numbers from the U.S. Census Bureau.
The pace of new-home construction in January represents an 86 percent increase from an April 2009 bottom of 478,000, but is still less than half the mid-2000s peak. 
But housing starts are getting closer to historical norms as they continue to trend upward after two and a half years in the doldrums.
Total housing starts, which include both multifamily and single-family units, were dragged down in January by an unexpected sharp decline in the "volatile" multifamily housing sector, wrote Bill McBride on his blog at Calculated Risk. McBride characterized the latest numbers as "a solid report."
Single-family housing starts rose 0.8 percent in January from December to a seasonally adjusted annual rate of 613,000, while the annual rate for multifamily units fell 26.1 percent from December.
Builder confidence dipped slightly this month, but remains near its highest level since May 2006, according to the National Association of Home Builders (NAHB).
NAHB Chief Economist David Crowe said in a statement that the association expects new-home starts "to continue on a modest rising trajectory this year."
Housing starts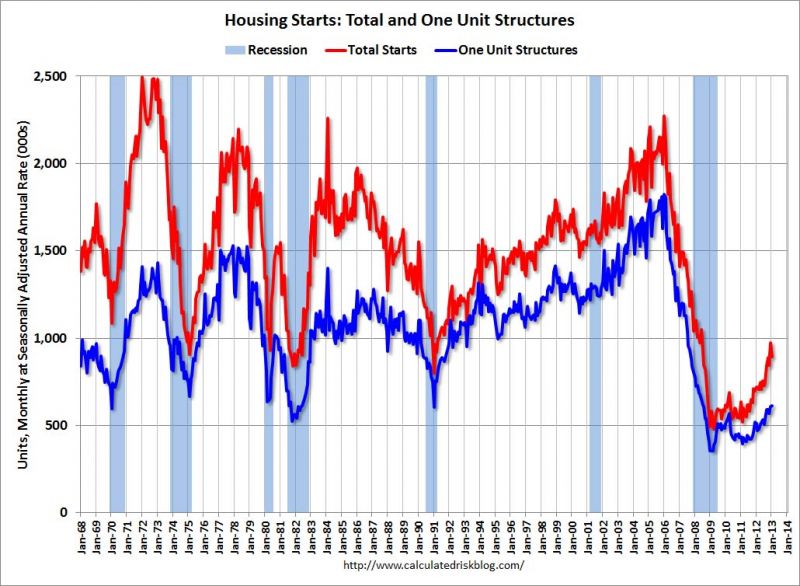 Source: Calculated Risk
Regionally, the Midwest and Northeast saw double-digit-percentage dips in housing starts from December to January — 50 percent and 35.3 percent, respectively.
The West and South, however, saw month-over-month increases, with a 16.7 percent and 4.1 percent jump, respectively.