The spring homebuying season has kicked off with housing inventories in many markets at post-housing bust lows, creating a feeding frenzy that can make buyer's agents' lives as wild as unmowed lawns.
Agents are trying everything to get to the closing table, from writing letters to potential sellers and reaching out to past leads to drum up inventory, to encouraging buyers to bid well above the list price on dream homes.
Despite these efforts, homes for sale will be scarce for at least another year in most markets, said Lawrence Yun, chief economist for the National Association of Realtors (NAR).
There were an estimated 1.74 million existing homes for sale in January — in terms of raw numbers, the fewest number of homes on the market since December 1999, NAR reported. At the pace of sales in January, those homes represented a 4.2-month supply of inventory, the lowest since April, 2005.
Rising prices will bring more sellers into the market — existing-home inventory rose to 1.94 million units in February, which represented a 4.7-month supply of inventory. But anything less than a 6-month supply is generally considered a seller's market.
Bumping inventory up is about bringing a net increase of homes onto the market, Yun said. Because home sellers typically buy homes after selling, inventory will continue to be tight until builders ramp up construction of new homes and they hit the market (likely next year), he said.
(Last year, builders sold only 367,000 new homes, which represented just 7.3 percent of last year's 5 million home sales. In a February forecast, economists at Fannie Mae estimated that new home sales will total 413,000 this year and hit 609,000 next year).
So buyer's agents who are starved for sellers in hot markets like Seattle, Denver and Oakland, Calif., may be hungry and feeling the heat for some time to come.
Here and gone in Oakland
Just across the bay from San Francisco, the median number of days on market for homes in Oakland was 14 days in February — the shortest duration of any market in the nation, according to the latest data from realtor.com.
In February, realtor.com showed 1,848 homes as listed for sale in Oakland — down 61 percent from a year ago. Only Sacramento, Calif., and Stockton-Lodi, Calif., had greater year-over-year inventory drops in February.
Carla Higgins, an agent with The Grubb Co. Realtors, has 30 buyers.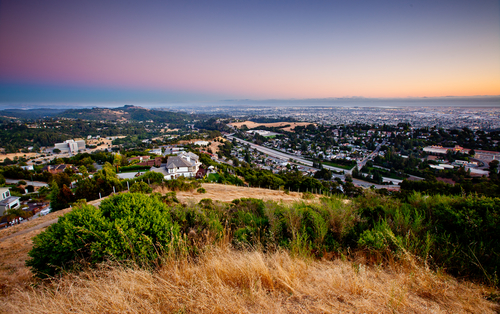 Oakland, Calif. image via Shutterstock.
In the last six weeks, she has sent 300 letters to homeowners informing them that she has buyers looking for a house like theirs. The notes also include a ballpark estimate of what their house is worth, based on recently sold comparable homes in the area.
"We have a joke in our office," Higgins said. "I don't care if you (a potential seller) sell with me, but we need your house on the market."
Higgins says she's also contacting people in her sphere of influence, feeling out who might be ready to sell.
One challenge faced by Higgins and other agents working in seller's markets is that fast-rising prices make pegging the value of homes tricky. Comparable sales that took place more than a month or two ago may no longer reflect current market conditions.
"Coming up with an offer is like throwing darts at a dart board," said Higgins' colleague Julie Garner, who's currently working with 16 buyers.
In the Oakland market, the data bears that statement out. According to realtor.com data, the San Francisco Bay Area city ranked second only behind Detroit for list price appreciation, with an 8.9 percent month-over-month jump in median list price in February.
Buyers looking at homes priced at $1 million and above in the Oakland area are bidding 20 percent to 40 percent above list price, Garner said.
To drum up sellers for her buyers, Garner's getting in touch with the owners of last year's expired listings. She also advises buyers to talk to their friends, and at community gatherings like farmer's markets she puts out the word that it's a sellers' market.
Garner tells her buyers to be brave and emotionally prepared to do what it takes to purchase the right home when it comes up for sale — even if that means stretching.
"If you're going to be a buyer in this market, you've got to be bold," Garner said.
Garner recently dropped a buyer she had been working with for a couple of years. The buyer, she said, just couldn't come to terms with the realities of a market where inventories are low and prices are rising quickly.
The buyer had made an offer on a home but lost out when the home sold for $400,000 more than the list price. Her client could have afforded to purchase at that price, but got cold feet about paying so much above the list price — about 30 percent — and dropped out.
"It was heartbreaking," Garner said. "It's not a numbers game at the moment."
Off-market deals in Denver
In Denver, agents are beginning to facilitate more off-market deals and building comparable market analyses that look back no more than two to three months.
Data from realtor.com shows there were 5,467 homes on the market in Denver in February, down 27 percent from a year ago. At 28 days, median inventory age was also down 30 percent year-over-year.
"In some areas, it's a feeding frenzy," said Anthony Rael, an agent with Denver-based Re/Max Alliance.
To drum up sellers for the eight buyers he's currently working with, Rael said he's combing through the last couple of years of contacts who have reached out to him for market analyses. Some of those leads are beginning to pan out, he said.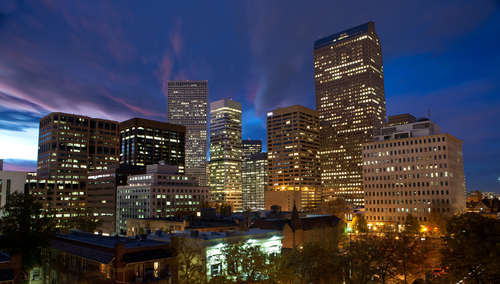 Downtown Denver at night image via Shutterstock.
The combination of scarce supply and intense buyer demand has also increased the number of off-market deals in Denver, Rael said. Agents are contacting each other directly, and some are selling homes without listing them in the local multiple listing service.
Rael estimates off-market deals in his market now represent 25 to 30 percent of those done, a five- to six-fold increase above what he usually sees.
His broker, Re/Max Alliance, is also ramping up internal communication to give its agents a leg up in the tight market, Rael said. The company now sends out a daily email to all of its agents listing the needs of in-house buyers and sellers.
A rapid runup in prices has also shortened the useful lifespan of comparable sales, Rael said. Agents and appraisers need comparable sales that are no more than two to three months old, instead of the usual six months, to put together pricing estimates and offers, he said.
"In some areas, I'm scratching my head (about prices)," Rael said.
Sellers scarce in Seattle
In Seattle, another market with extremely low inventory, realtor.com data shows 3,884 homes were on the market in February, a 45 percent drop from the year before. Those homes had been on the market for a median of 33 days — less than all but four out of 146 metros tracked by realtor.com.
"The market's insane right now," said Joseph Sacco, an agent working out of John L. Scott Real Estate's West Seattle office.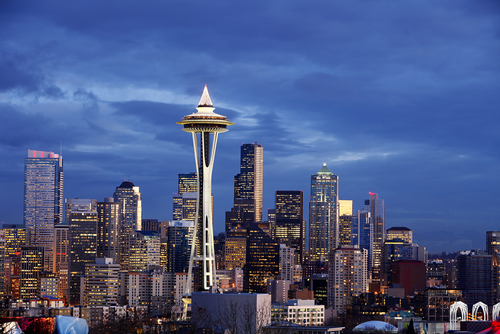 Seattle skyline image via Shutterstock.
Sacco, who has two buyers, said he's considering writing letters to potential sellers to scrape some inventory up by alerting them to the changing market. According to realtor.com data, asking prices in Seattle were up 17 percent in February from a year ago.
Recently, Sacco represented a buyer who placed an offer on a property they were interested in at $20,000 above the $499,000 list price. The sellers rejected the offer because they didn't think the home would appraise for that much, and they would end up having to reduce the price, Sacco said.
Sacco said he's seen buyer's agents in Seattle coach buyers to make overpriced offers that, once accepted by the seller, can be negotiated down after they don't appraise. For this and other reasons, Sacco is advising his buyers to wait a little while to buy their home, if they can, until the market is a little less frenzied.
For agents representing buyers who are set on finding a home right away, he has some simple advice: "Hold on."
John L. Scott Real Estate's listings are selling so fast, said Eric Uyeji, manager of the firm's West Seattle office, that in order to secure more business, the brokerage has been putting more emphasis on neighborhood engagement around the listings it does have.
Uyeji said he's encouraging agents to invite neighbors to open houses and to go door-to-door introducing themselves. Sometimes, he said, a yard sign is just in the ground a day or two before a home is sold, and the brokerage and agent miss opportunities to reach potential clients.