In a scene that will be repeated thousands of times around the world this year, next week 300 students at Edward Jenner Elementary Academy of the Arts in Chicago will crawl into the belly of a 75-foot-tall, 57-foot-wide hot air balloon emblazoned with the branding of Denver-based global real estate franchisor Re/Max LLC.
The students will get a lesson on thermal dynamics and lighter-than-air flight, and feel the excitement of being up close to the enormous aircraft. Re/Max will get a little more exposure for its iconic brand, as the company keeps alive a 35-year-old tradition in an era dominated by Internet and social media marketing.
Re/Max's Northern Illinois "balloon crew" has already visited 35 schools in 2013 and will visit more than 100 schools in the region by the end of this year. But Northern Illinois is just the tip of the iceberg.
With 120 red-over-white-over-blue seven-story balloons, Re/Max claims to have the world's largest fleet of hot air balloons. It sends them to schools, running events, grand openings, parades, and music and arts festivals around the world to promote the brand each year.
Schools, because of the variety of networking possibilities and embedded community exposure opportunities they present, are one of the most popular events for the balloons, said Mike Ryan, executive vice president of Re/Max.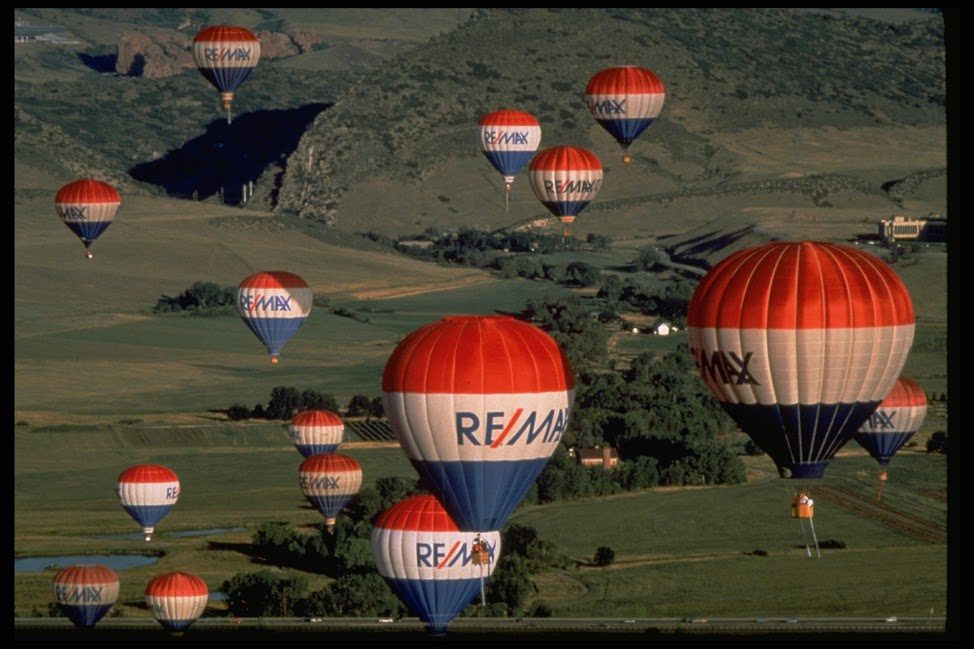 Fleet of Re/Max hot air balloons. Photo: Re/Max.

Build a business platform to make an impact
See how two top agents support a cause that's close to their hearts
READ MORE
Typically, a Re/Max agent sponsors and helps coordinate each event, passing out fact sheets to parents before the visit and reaching out to local community-minded media, who sometimes cover the visit. Sponsoring agents can network with parents during the events, and share video and media coverage of the event afterward on their social media channels and in marketing emails.
Despite their now-iconic status, the Re/Max hot air balloons had a shaky beginning. In 1978, a Re/Max broker in New Mexico wanted to enter a balloon sporting the franchisor's branding in the Albuquerque International Balloon Fiesta. The broker pitched the balloon as the centerpiece of a national Re/Max advertising campaign to Dave Liniger, who'd founded the company five years earlier.
Ryan said Liniger and other Re/Max leaders initially had their doubts. But after a company meeting, Liniger and other company leaders happened to see footage of the Re/Max balloon flying over Albuquerque on TV in a Chicago bar. The idea caught fire, Ryan said.
At the time, Re/Max was still relatively small, with 100 offices and 1,000 agents. The company had an equally small marketing budget, so Liniger was looking for a cheap way to get exposure for the brand.
Liniger and the other Re/Max leaders thought a still image of the seven-story Re/Max balloon from the Albuquerque festival would do the trick. It did.
"(The idea) took off," Ryan said.
Thirty-five years later, Re/Max has grown to more than 90,000 agents, and its fleet of balloons are part of a marketing campaign that has made the company one of the most readily identified real estate brands in the U.S. and Canada.
According to a survey of more than 2,500 people in the U.S. and 600 in Canada between November 2012 and March 2013, Re/Max is the most frequently mentioned brand among respondents in both countries, beating out Century 21, Coldwell Banker, Prudential and Keller Williams.
Percentage of respondents who named specific brands (in order of most frequent mentions) in response to the question: "When you think of real estate brands, which ones come to mind?"
| | | | |
| --- | --- | --- | --- |
| Brand | Percentage of U.S. respondents who named the brand | Brand | Percentage of Canadian respondents who named the brand |
| Re/Max | 25.2% | Re/Max | 51.8% |
| Century 21 | 22.2% | Royal LePage | 22.9% |
| Coldwell Banker | 14.7% | Century 21 | 22.8% |
| Prudential | 7.1% | Sutton | 8.1% |
| Keller Williams | 4.6% | Coldwell Banker | 5.3% |
Source: Re/Max