Quicken Loans beat out a number of big banks on customer satisfaction to land the top spot on the J.D. Power 2013 U.S. Primary Mortgage Origination Satisfaction Study, which also found that the use of electronic closing documents improved customer satisfaction with that part of the process.
On average, mortage lenders scored 771 on a 1,000-point scale for overall customer satisfaction — a seven-year high. But some of the biggest names in the business — including Wells Fargo, Bank of America, CitiMortgage and SunTrust — scored below average.
Quicken Loans ranked highest on overall customer satisfaction (841), followed by Branch Banking & Trust Co. (798), and U.S. Bank (783).
Real estate brokers and agents who sometimes struggle to get their buyers approved may not be surprised to learn that mortgage lenders earned higher scores when refinancing loans (775) than when originating purchase loans (765).
The study measures customer satisfaction in four areas, providing the most weight to consumers' ratings of how lenders handle the application and loan approval process, followed by the assessment of the loan representative they did business with, the closing process, and communications with the lender.
Overall satisfaction among first-time homebuyers is 772, compared with 757 among repeat buyers.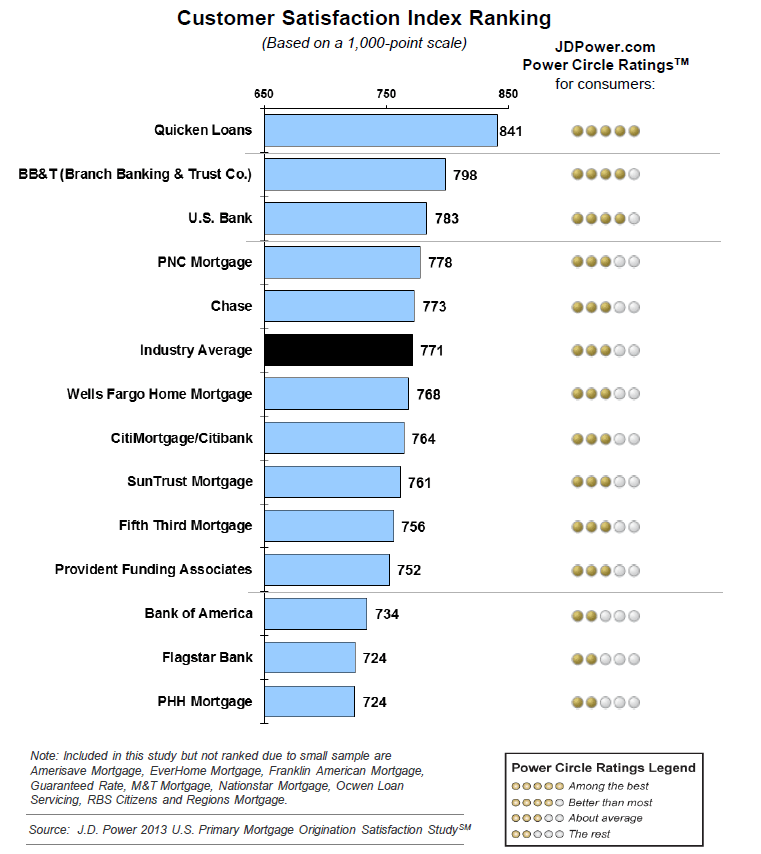 "First-time buyers often have questions and should not be afraid to ask prospective lenders about the specifics of the mortgage process and how they will be kept informed," said Craig Martin, director of the financial services practice at J.D. Power, in a statement. "Much of the stress with borrowing comes from a lack of information and knowledge during the process. Asking when you will be updated and how that information will be provided are two key questions that may help improve the borrowing experience."
The study, conducted during August, was based on responses from 3,267 customers who originated a new mortgage or refinanced within the past 12 months.