As home prices and mortgage interest rates rise, potential homebuyers are finding that fewer homes are within their financial grasp, prompting parallels to the most recent housing bubble.
A study by real estate portal Zillow has found that, for a full one-third of homes for sale nationwide in the fourth quarter, buyers would pay a larger percentage of their income toward a mortgage than in the pre-bubble era.
Zillow analyzed fourth-quarter income, mortgage and home value data. The company measured affordability by comparing how the share of an area's median household income needed to cover the mortgage payment of a median-priced area home in the fourth quarter measured relative to the income-share needed to make a mortgage payment on a median-priced home in the same area between the years of 1985 and 2000.
While two-thirds of U.S. homes for sale were affordable in the quarter compared to the pre-bubble years, Zillow expects affordability to wane as interest rates on 30-year fixed-rate mortgages continue to rise toward an expected 5 percent over the next year. Rates on that type of mortgage have jumped close to 1 percentage point from 3.54 percent in April 2013 to 4.41 percent this week, according to Freddie Mac.
"As affordability worsens, we're already beginning to see more of the kinds of worrisome trends we saw en masse during the years leading up to the housing crash," said Zillow Chief Economist Stan Humphries in a statement.
"These include a greater reliance on non-traditional home financing, smaller down payments and a greater pressure to move further away from urban job centers in order to find affordable housing options."
"We're not in a bubble yet, but we're beginning to see the early signs of one in some areas," Humphries said.
In seven of the 35 largest U.S. metros — Miami, Los Angeles, San Diego, San Francisco, Denver, San Jose, Calif., and Portland, Ore. — more than half the homes for sale as of Feb. 28 were unaffordable by historical standards, according to Zillow.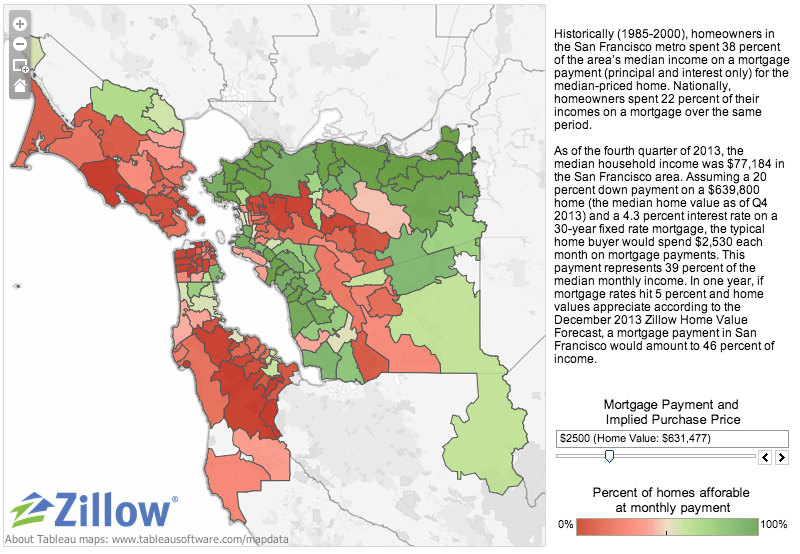 Screen shot of interactive map showing Zillow-determined housing affordability by ZIP code in the San Francisco Bay Area. 
Zillow's not alone in pointing out the erosion of home affordability in the U.S.
The monthly payment for a median-priced three-bedroom purchased in the fourth quarter of 2013 increased 21 percent from the year before, data aggregator RealtyTrac reported in February.
That same month, the National Association of Realtors pointed out that rising home prices were creating home affordability challenges in some U.S. areas.
Home affordability in the U.S.'s 35 largest metros in fourth quarter 2013