Global franchisor Re/Max is on track to grow its agent count to close to 100,000 by the end of the year thanks in part to its success in bringing on agents new to real estate, the brand's CEO Margaret Kelly told investors on the firm's second-quarter earnings call.
Re/Max reported a $14.5 million profit for the second quarter, with revenue up 7.8 percent from the same time a year ago, to $42.3 million. The company expects full-year revenue to be up 6 to 7 percent from the $158.9 million that came last year, Kelly said.
Re/Max says its current growth strategies include three initiatives:
Increasing total agent count.
Continuing to drive franchise sales growth and agent recruitment and retention.
Reacquiring select Re/Max regional franchises in the U.S. and Canada.
Re/Max grew its worldwide agent count by 4.7 percent from a year ago, to 96,089 as of June 30. Most of that growth came in the U.S., where brokerages affiliated with Re/Max added 2,934 agents, bringing the U.S. agent total to 56,262.
Approximately 20 percent of agents who joined the brand in the U.S. during the year ending June 30 were new to real estate, Kelly said.
That number "surprised us," Kelly said. Digging deeper, she said, the firm discovered that Re/Max team leaders who had trimmed their squads in the housing downturn were growing again with the housing recovery and targeting real estate newbies.
Re/Max agent growth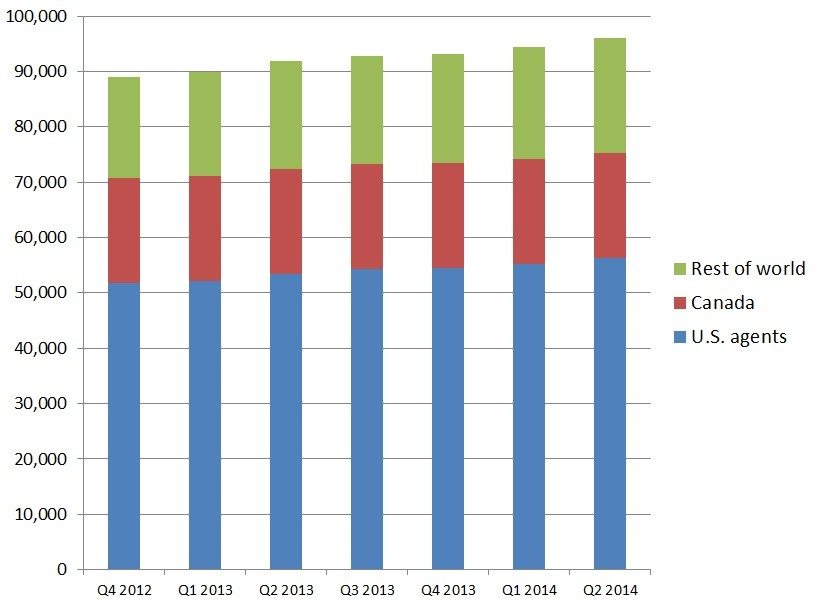 Source: Re/Max earnings report.
Another chunk of the agents who joined Re/Max in the U.S. over that time period, about 15 percent, consisted of former Re/Max agents rejoining the brand, Kelly said.
Kelly attributed some of the growth in U.S. agent count to the effectiveness of the franchisor's "Open Your Eyes to Re/Max" agent recruiting campaign. Launched in March in conjunction with its national consumer marketing campaign, a portion of the agent recruiting campaign, titled "Missing You," targeted former Re/Max agents, she said.
As part of the recruiting campaign, the franchisor distributed recruiting materials to affiliated brokerages, including digital components that can be used in drip emails and digital ads.
The agent-recruiting campaign had more success in Re/Max's company-owned regions where it rolled it out strongly, Kelly said. Re/Max owns 11 of the 29 master franchise regions in the U.S. In regions Re/Max corporate doesn't own, the other owners have greater control over how they help Re/Max-affiliated brokerages recruit agents, she explained.
Kelly noted that Re/Max expects its global agent count to grow close to 5 percent in 2014 from its 2013 total, toward the upper end of the range it projected at the beginning of the year. That growth would give Re/Max approximately 98,000 agents worldwide.
Other brands, too, are seeing their agent ranks swell.
Keller Williams Realty reported in May that it grew its agent count by 18 percent in 2013 to help kick its global agent total to over 100,000 as of the end of April.
Realogy's largest real estate brand by agent count, Century 21 Real Estate, still has the worldwide agent count throne. It had 103,800 agents in 74 countries as of Dec. 31, 2013, after growing its agent count by 3.5 percent in 2013, according to Realogy's most recent annual report.