In the latest example of an overseas expansion push that's picked up momentum in the last year, U.S. franchise powerhouse Keller Williams has quietly opened up shop in the U.K. and is expanding its presence there.
Agents affiliated with Keller Williams London are currently representing 11 for-sale listings on the popular U.K. property search site Zoopla, with an average list price of £714,272 ($1.1 million U.S. dollars).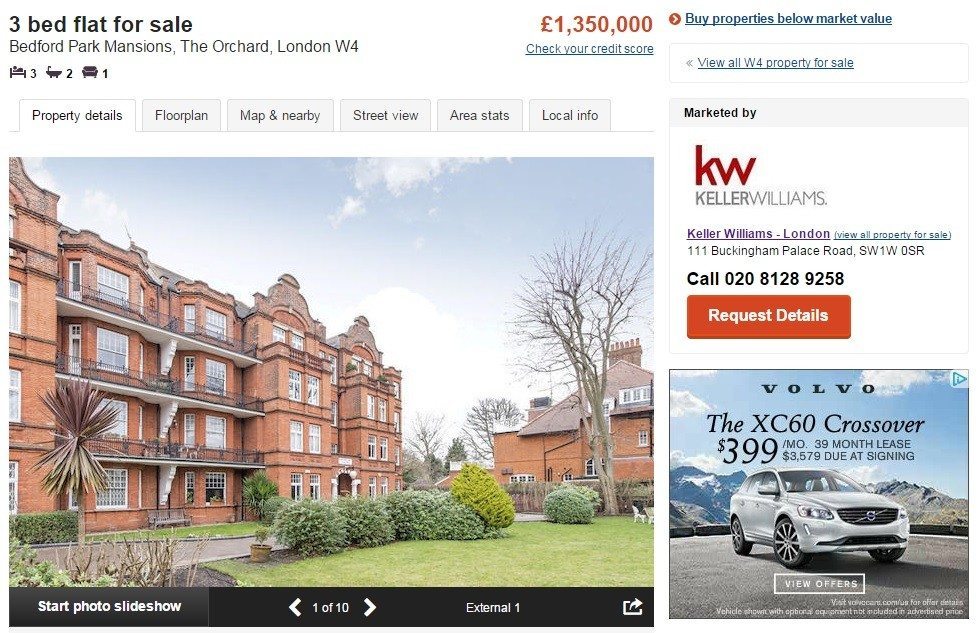 A three-bedroom flat on the market in London is one of 11 properties represented by Keller Williams agents on Zoopla.
The Telegraph reports that the company has signed up 40 "sole traders" (small-business owners, often with only a single employee) and independent estate agents in London after a soft launch last year, and plans to open two new offices in London and Leeds.
Two other big-name U.S. franchisors, Century 21 and Re/Max, have tried to establish themselves in Britain but are not major presences there, The Telegraph reports.
Last year, KW opened new offices in Dubai, Mexico and Portugal. At KW's annual training and networking convention this month, CEO Chris Heller announced two new KW market regions — Costa Rica and Spain — and said the number of associates outside of North America more than doubled last year. Last fall Heller said KW's Turkey region had opened seven offices in 2014 and that KW Southern Africa had opened 22 offices in two years.
"As we continue our expansion outside of North America, we are watching global events closely," Heller told Inman in December. "That said, we've been very purposeful about who we have gotten into business with — experienced business leaders in stable, growing markets."