Real estate franchise giant Re/Max says its strong balance sheet and cash flow will allow the company to continue to reinvest in its business and make acquisitions even as it doubles its quarterly dividend to investors and pays out a special cash dividend totaling $45 million, or $1.50 per share.
Even after increasing the company's quarterly dividend to $0.125 per share and paying the special dividend, "We will have ample capital capacity to pursue our other capital management priorities, which include reinvesting in our business and completing acquisitions to spur future growth," CEO Dave Liniger said in a statement.
Shares in Re/Max, priced at $22 per share in an October 2013 initial public offering, jumped nearly 6 percent in early trading today, to $34.36, before giving up some of those gains.
At yesterday's close, shares in Re/Max were down nearly 18 percent from a 52-week high of $39.43. Stock analyst Richard Saintvilus, in a piece for The Street, cited fears about recent leadership changes at Re/Max as a reason for the decline.
Re/Max share price, year to date.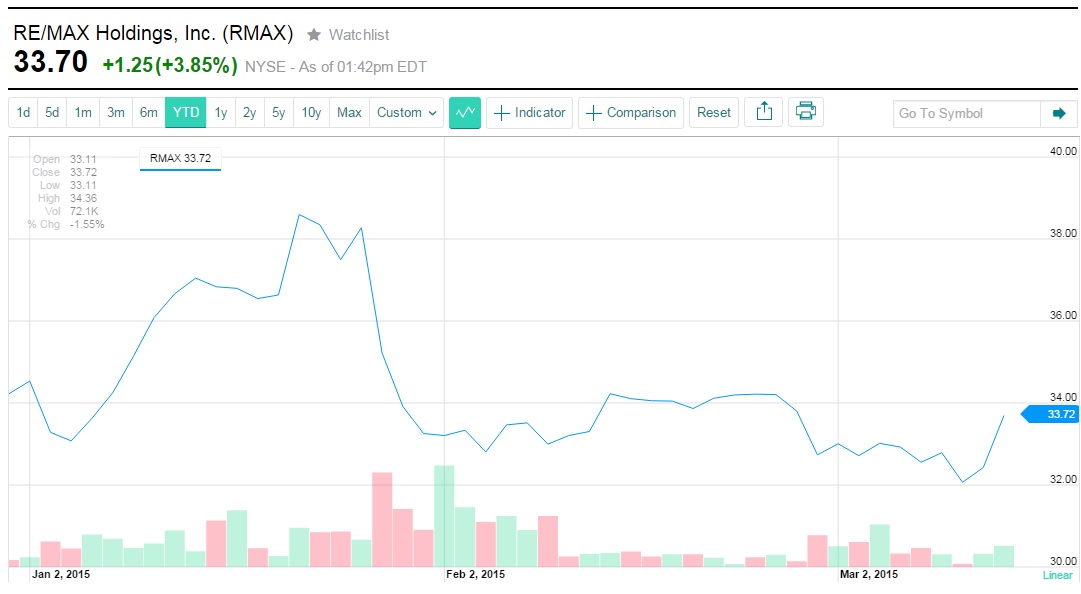 Source: finance.yahoo.com.
But shares in Re/Max made their runup to their 52-week high in January, after the company's Dec. 11 announcement that co-founder Liniger was taking over the CEO reins from Margaret Kelly.
Saintvilus says reductions in Re/Max's operating expenses and continued growth in agent count bode well for the company's future, and that analysts see the company's shares as undervalued.
Re/Max used part of the money from the IPO to reacquire two of its master franchise regions in the U.S. Last year the franchisor raised the annual dues its agents pay to affiliate with the brand, and also the monthly fees paid by brokerages in company-owned master franchise regions.
In its most recent quarterly report to investors, Re/Max posted net income of $14 million for the quarter ending Sept. 30, up 83 percent from a year ago. During the first nine months of 2014, Re/Max said it paid a total of $2.17 million in dividends to owners of the company's common stock.