Inman is interviewing real estate professionals in every area of the field to talk about technology use. Here's Kevin Hopp, the vice president of customer success at Dizzle and an Inman contributor.
What model is your phone? Why?
I have an iPhone 5 and I love it, but can't wait to upgrade to an iPhone 6 Plus when my contract is up.
What are your top three apps on your phone?
Facebook, Instagram and Snapchat.
How do you split your digital time: How much mobile, how much desktop?
I split my digital time probably 70-30 mobile to desktop. I love my laptop, but I spend a lot of time on my phone; it's easier to connect and get things done quickly on my phone sometimes.
Describe your job. What do you do every day? How does technology support (or not support) your daily job description?
I am the vice president of customer success at Dizzle. My job requires me to sell, build and support customized mobile apps, so I literally have my phone and laptop in front of me all day. I use my iPhone to beta test all of our apps and to interact with other members of our team on the Slack app. Everything that I do in a given day requires technology — it makes it pretty funny when the Internet goes down; things come to a screeching halt!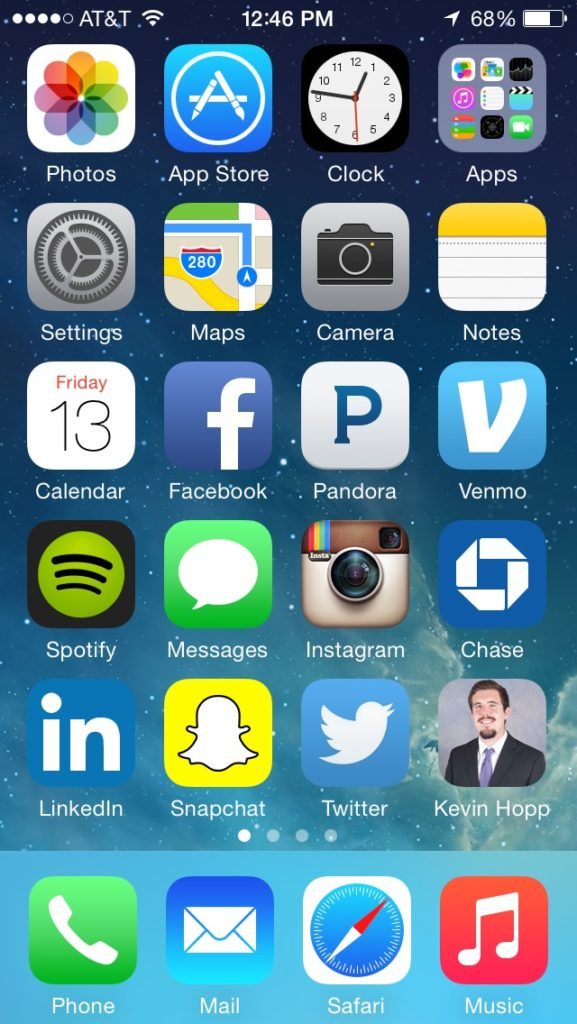 Do you consider yourself an early adopter of technology? Or do you wait to see what's working for other people?
I am an early adopter as much as I can be. Currently I'm waiting for my update with AT&T to get a cheaper iPhone, but if I had the funds, I would buy the latest tech and software as soon as I could.
What's the biggest technology-related challenge you face today? How do you solve it?
The biggest tech challenge is adoption, in my opinion. There is magnificent software and hardware out there that people work very hard to build and support, but real estate is behind the curve on this, and there are not nearly enough "tech-savvy" real estate agents out there.
How do you feel technology is changing the real estate industry? Are these changes making the industry better or worse? Why?
The industry needs to go paperless, and it needs to be mobile in order to make a seamless, efficient process for the buyers and sellers. It's not really a question anymore; tech is here to stay, and I'm confident over time, every part of the process will be technology-based. The agents that have mobile-optimized sites, mobile apps and stellar social networking right now are definitely early adopters, and they are on the cutting edge.
What email system(s) do you use? Which one is your favorite and why?
I use Gmail at Dizzle; I just convinced my boss, Will Caldwell, to switch from Outlook. Best decision ever, in my opinion. Gmail is so easy; it plugs and plays with so many different types of technology. It's really powerful.
What kind of laptop or tablet (or both) do you own?
I have a Macbook Pro and an iPad 2. They are fantastic, and I would highly recommend either of them.
Do you have a Nest thermostat in your home?
I do not have a Nest, but I know all about it, and when I own my own house I will most likely install one!
Which websites do you visit every day? Why?
Websites I visit everyday are LinkedIn, Facebook, TheCHIVE, the developer portals for both Apple and Android, and, of course, Inman.
What is your favorite technology, one you actually get joy out of using?
My favorite technology by far is my phone. It is stupidly powerful. It's 30-plus different devices' functionality in the palm of my hand, and it goes anywhere and everywhere with me.
What is your favorite "unplugged" activity?
My favorite unplugged activity is golfing. My happy place is the driving range at night, with a bucket of balls and the crisp San Diego ocean breeze.
Read Kevin Hopp's article "Understanding millennial buyers through Snapchat."
Would you like to participate in Inman's technology profile series? Email contributors@inman.com.