Age: 53 midcentury modern (vintage)
Years in real estate: Licensed 2009
Company: Savvy and Company | Smart Real Estate. Nice People.
Job title: Broker/Realtor, 
South of SouthPark Team (wife Rhonda)
"Bringing a smile back to real estate."
Location: Charlotte, North Carolina
Hours per week spent on social media: Not enough. Have no idea … 10?
Social media accounts: Facebook, Instagram, Pinterest, LinkedIn, 500PX and a WordPress site.
Target demographic:
 Interesting, humorous/witty, smart, passionate people.
Average number of posts per day: 
Rarely as many as the number of likes or comments I make on other people's pages and posts. Probably eight to 10 a day on my own.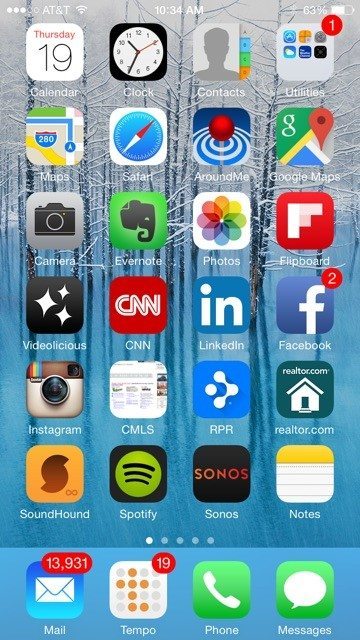 Which social channels do you work more?
For me, social media is narrative and insanely visual. I prefer Facebook, Instagram, LinkedIn, Pinterest, 500PX (my iPhone photography) and my WordPress blog. I make an effort to compliment and surprise with images. 
Twitter just does not float my boat.
How many friends, likes, etc., do you have?
I had no idea until I checked for this profile: 
939 connections on LinkedIn, 811 Facebook friends and 146 Instagram followers.
Does that number matter to you? 
I suppose it matters to my ego, my lizard brain, but I subscribe to the Seth Godin philosophy: I'd rather engage with 50 people who care than 500 who "like" me but wouldn't miss me if I were gone (social media wise).
Do you ever give it a break?
Not yet. It's part of my DNA, so …
Does social help your business, and how?
It helps immeasurably. I cannot tell you how may times people (usually lurkers) come up to me in real life and comment about something I posted (especially on Facebook). I get a kick out of that and wish more people were not afraid to put it out there — it comes back to you in magical and unexpected ways. And yes I regularly get real business directly and indirectly from my social media relationships.
What's your goal for your favorite social channel? 

I'm a huge fan of Seth Godin, so my goal is to engage people organically. I try to make sure everything I post is informative, humorous or interesting. My goal will always be to make one more wonderful connection.
What's your strategy to achieve it?
Continue to be original, authentic, interesting, witty, helpful and nice.
Is it worth it?
Worth it? I'm glad to say my virtual life enriches my real life.
What's your craziest social media-related story?
Memorial Day weekend with a friend, Jeff, who was intractably against social media. You know the cliches: "I don't need to know what you had for breakfast …" Not one to back down, I told him that after reading Seth Godin's "Purple Cow" in 2006 I emailed Seth and he emailed me back almost immediately. We continued to email back and forth for years (in fact, I just emailed him to ask if it was OK to share this story). 

I was sharing this story as an example of the real-world power of social media — how it enabled me to connect with a renowned author!
Incredulous, Jeff said I was naive — I should know that it was not Seth, but rather an intern responding to emails. In frustration, I emailed Seth to lament another nonbeliever. Seth, as he always does, responded almost immediately: "What's his number?"
The next day Jeff called me in a tizzy having just gotten off the phone with Seth Godin. Seth graciously explained that both he and I were real! That day Jeff became a fan and a believer. BOOM!
What actions do you take that have gotten the most results?
Being real and brave, or as I like to say, "real brave." 
I read the Charlotte Observer newspaper (yes, the one made from trees) and have built quite a little niche posting images of newspaper articles with yellow highlighted text — can't get more organic that!
Is this more about "social" or about business? 

Neither and both.
How do you monitor the channel? Do you use software or apps to manage your account?

My social media is 100 percent organic, but I appreciate the available tools and apps.
How many hours per day are you on social? Do you check it daily? Multiple times per day?
I check in throughout the day, all day every day. It's not a thing for me, it's part of my life. I am really fast unless writing a blog post that takes me forever — I could really use an editor!
Do you ever think of retiring?

Retire from what? My life?
Do you consider yourself an influencer?

Absolutely. I would have to be the lead singer in my band.
Are you social in real life?

To a fault …
What did you do with your time before?

Before what? (Witty, eh?)
How do you leverage your influence on social media?

I post cross-channel (organically) because each person engages differently.
Do you have someone helping you?
I wish, but I'm honestly not sure how they could. I would be hell on wheels with a personal assistant.
Whom do you follow, and why?

Seth Godin, Simon Sinek, Scott Stratten, Inman (all), to name a few. To be honest, my Safari "read later" list and Evernote are overflowing with brilliance!
Where do you find the content that you put out? 

I am all over the map on this. I love(d) Zite, soon to be rolled into Flipboard, and I find BuzzFeed a great tool, and a million other sources. Houzz, This Old House … more
What has been your all-time hit share? Can you share a link to the post?

For me, it's more like a great album than a one-hit wonder. On my blog, I try to very hard to inform, entertain and inspire. I'm in the process of updating some things, but I am very proud of my "think different" attitude and philosophy espoused in our About You and About Us pages. I also live the spin I put on listings with my Homestory posts.
Are you a social media all-star who'd like to participate in Inman's profile series? Email amber@inman.com.