The rate of distressed home sales fell to 2008 levels in February and should return to a historically normal level in mid-2017 if the annual decrease seen that month holds steady, according to data aggregator CoreLogic.
Distressed home sales — bank-owned home sales and short sales — accounted for 13.5 percent of total sales in February, down 3 percentage points from a year ago.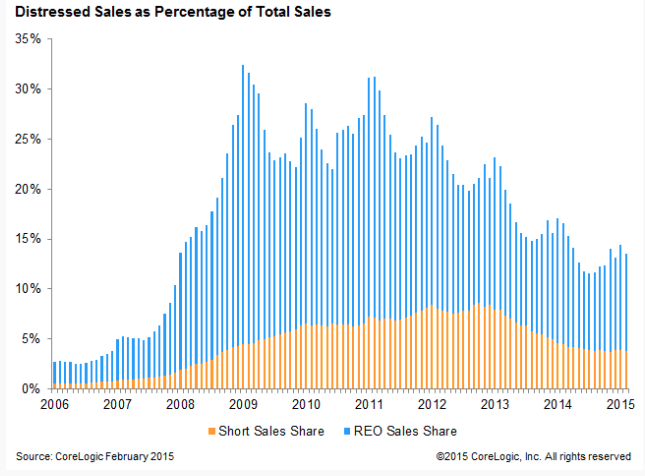 The shift away from bank-owned home sales is helping fuel home price growth, as bank-owned properties typically sell at a larger discount than homes sold in a short sale, according to CoreLogic.
Distressed sales' share of total sales in February also fell on a monthly basis, dropping by 0.8 percentage points from January's level. The rate of distressed sales typically decreases month over month in February due to seasonal factors.
Bank-owned home sales accounted for 9.7 percent of total home sales in February and short sales made up 3.8 percent.

'Hey, Google. Find me a real estate agent.'
How a Google profile can put you on top of local search results
READ MORE
Distressed sales' share of total sales peaked in January 2009 at 32.4 percent, with REO (real estate owned) sales representing 27.9 percent of that share, CoreLogic said.