Bill Brown is the CEO of Matterport.
Describe what you do in one sentence: I'm CEO of Matterport, a Silicon Valley computer vision technology company using 3-D technologies to create a new form of digital media.
Age: 47
Degree, school (if applicable): University of Pennsylvania, Bachelor of Arts in economics; Wharton, Bachelor of Science in marketing; Northwestern University Kellogg Graduate School of Management, MBA
Location: San Francisco Bay Area – Redwood City
Social media: LinkedIn, Twitter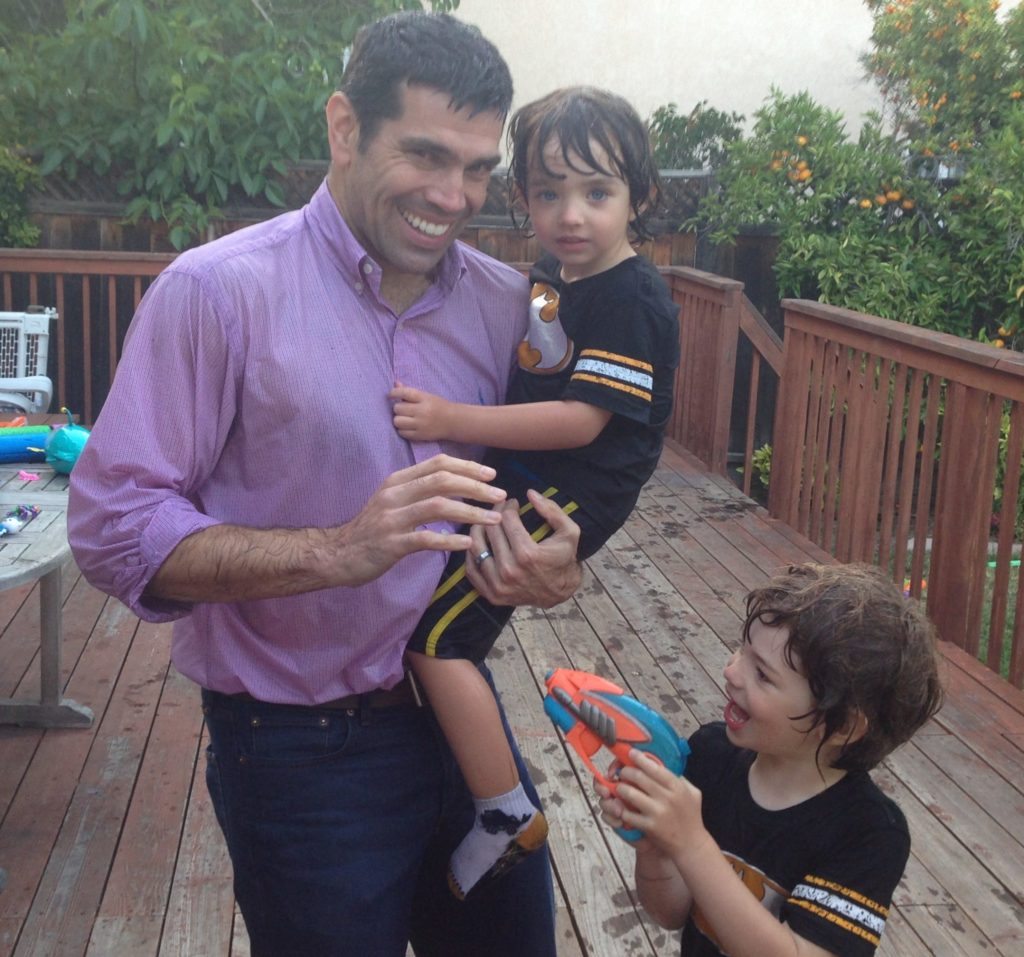 What's your favorite activity outside of work and why?
Spending time with my family — in particular, playing (anything) with my kids Logan (5) and Sebastian (4). Swimming, tennis, soccer and, most importantly, post-work "massive water fights."
What's your favorite classic piece of literature and why?
Tongue-in-cheek, I would say "The Great Gatsby" because it reminds me of the current tech bubble (or the last one in 2000). More seriously, I'd say "Hamlet" because of the pervasive symbolism of the theme of being trapped by fate and the question of free will.
Are you the first entrepreneur in your family?
​​Yes, I am. When I was in college, Steve Jobs and Bill Gates were big influencers for me. I caught the startup bug in 1997 and started my first company in 2000. My parents raised four kids, though, and I think that's probably as tough as any startup. They also encouraged me​ to do my own thing, including starting a local independent house-painting company that helped pay for college.
How'd you come up with the idea for your startup? ​​
​​I joined Matterport after Matt Bell and Dave Gausebeck came up with the idea for Matterport. Matt had started a company called Reactrix, using expensive 3-D sensors to create interactive experiences in large spaces.
When Microsoft introduced the Kinect and opened it up for developers at a retail cost of only $150, Matt saw a future when low-cost 3-D sensors would be added to camera systems and with that, an opportunity to create a new media form using his computer vision expertise. Dave Gausebeck helped Matt refine that vision and they started building the company.
The company was kind of a perfect match for my background, and after consulting for several months, I joined as CEO in November 2013. Previously, I had worked for a company called bamboo.com, which was one of the first virtual tour companies in the real estate industry.
Then I started ProductPOP, an e-commerce cloud company (before they called it "the Cloud") delivering 3-D product displays and other marketing content on behalf of auto and tech companies. From there, I worked at Canesta, a 3-D sensor company that was bought by Microsoft and is the basis of the new Kinect camera. I helped Reply.com create their lead marketplace that served the real estate industry, among others. Finally, I was at Motorola Mobility working on next-generation "converged" devices and know some of the ATAP team that started Tango from my time there. All of those experiences have a pretty significant connection with what Matterport is all about, so the fit was really natural.
Describe a time when you felt particularly insecure about the future of your company. How did you bounce back?
Last fall, we had some technology challenges both in making the hardware work in the field as we needed it to, and in getting our software to produce a result with high enough visual quality to really engage customers.
This feedback came from our engagement with our early adopters, which consisted of about 45 customers across different markets who were using our system and giving us feedback. Staying close to customers has been a key practice in developing our technology and creating products, and I gave an example in a recent blog about our collaboration with Redfin.
Then, we undertook two pretty intensive efforts to get on track. On the hardware side, we put together a "tiger team" of engineers and just worked the issues on a daily basis until we understood the 3-D sensors better than the sensor vendors did (according to them!)​. ​On the software side, we did a bunch of experimentation that led us to make the decision to incorporate HDR visuals into our 3-D models the way we did. It was a ton of work, and really gave me an appreciation for how incredibly smart and dedicated the Matterport team is. Those two sets of activities were really critical in getting us to where we are now.

Matterport Showcase of Bill Brown's front yard. 
What would you describe as your company's biggest victory since launching and why?
Launching 3-D Showcase this summer and getting an amazing response from the real estate industry. From winning the Realogy FWD Innovation award, to establishing a partnership and commercial agreement with Redfin, to engaging with photographers and brokerages across the country to deploy and improve this new media form, it's been an amazing ride.
What's been the biggest obstacle your business has encountered, and how have you dealt with it?
When Apple announced that it was buying PrimeSense, there was a lot of uncertainty around the business. Our initial Matterport Pro 3D Camera uses PrimeSense 3-D sensors, so the prospect of Apple taking the technology off the market could have made it difficult for us to make our camera.
Fortunately, we had recognized this risk ahead of time and had some terms in our agreements with PrimeSense that allowed us to secure enough of a supply to last for quite some time — more than enough to eventually switch to a future-generation 3-D sensor.
What puzzles you most about the industry?
The fragmentation within the industry and the lack of convergence onto technologies that empower customers, and reduce friction in the process while facilitating the relationship with agents. You look at all of the brokerages, MLS, ILS, lead generators, website developers, marketing system vendors, etc., etc., etc. It's really amazing that the industry can keep up with the latest, never mind the consumer!
​What is the most important lesson you've learned about building a business since launching your company?
Building a great team is the first priority. Only the​n​ can you focus the team and leverage everyone's talents to understand a set of customers and create real value for them. There's no room for ego if you want to build something great.
What's the most overrated real estate technology?
Well, it certainly isn't the 3-D Showcase!
I will answer a different question here, if I may, since I don't really have a good answer to your question:
"What's going to be one of the biggest new technologies coming in the future?"
VR Headsets like the Oculus Rift and Samsung's Gear VR that allow you to really experience a property as if you are physically there. This will be a game changer for buyer's agents who adopt the technology and make it available to their customers.
How will the role of the real estate agent change over the next five years?
I'm not sure I'm the expert in this field, but from what I'm seeing, agents will increasingly play a role of navigating through a changing set of technologies that improve the buying and selling experience for their clients.
The personal, human relationship will always be a key to success for agents, but an increasing part of that relationship value will be providing expertise and assistance in using the latest technologies and techniques.
What motivates you more: power or money?
Since money doesn't really motivate me, I'd have to say power, although not in the "political" sense. I really value the power to create new and valuable things that improve the human condition.
What is your biggest professional fear?
Becoming out of tune with current social and technical trends.
What is your biggest personal fear?
Something bad happening to anyone in my family.
Whom do you respect most in the industry?
Another tough question — I'd have to say the team at Redfin. I like they way they think about the market; I like their business model and ability to move quickly; and I love the fact that they have a great technology team. I guess that would mean the individual would be Glenn Kelman then — he's a really talented guy and just seems like a good person. As I said, though, the more valuable thing is the team.
Are you a real estate industry leader who'd like to participate in our profile series? Email amber@inman.com.