Everyone is talking about how content marketing is changing the way businesses of all kinds communicate with people. The process seems to be as simple as publishing content and watching the money roll in. Rand Fishkin of Moz calls this the Caveman approach.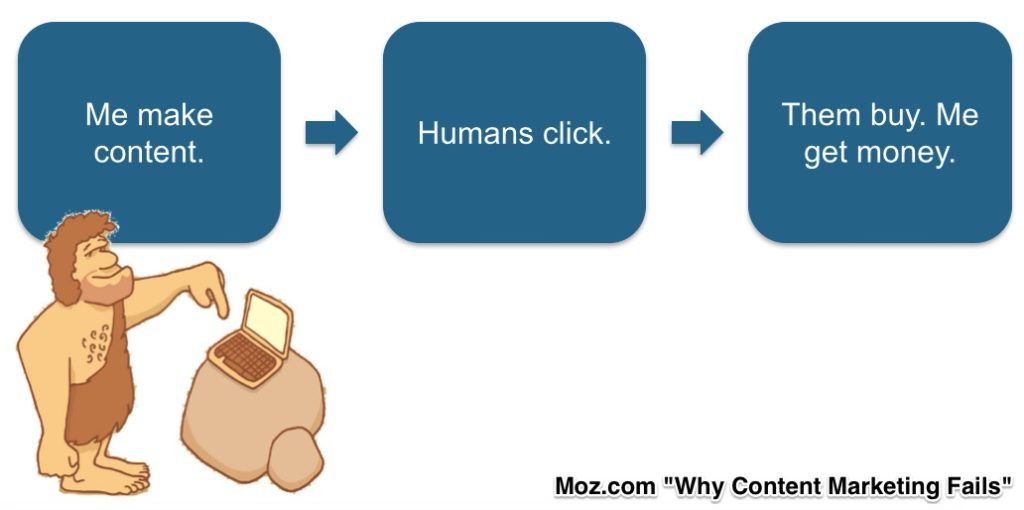 We instinctively know this is wrong, but it's tough to know what's right. What is the process readers go through to get from discovery to trust and eventually to buyer? Let me share with you the cycle I have seen work time and again, and please steal it for your own content strategy.
A reader with a problem
You have to know your ideal customer and the problems they face. Is it getting a home loan? Finding something to do over the weekend? What to look for while viewing a potential home? These are the problems that your future customer seeks answers for and that you are uniquely positioned to answer.
Find your content and solve the problem
Now the reader is online and searching for answers, they find your content specifically solving the problem for them. They are delighted and file away your name in their mind as a helpful resource who has their back. As a bonus, Google has repeatedly stated that quality content is a core driver of search rankings.
Each interaction builds trust and authority
Next time the reader (now a fan) has another problem in your niche (best school districts, local farmers markets, interior designers, etc.), they will seek you out for help, even if it's just for a recommendation.
Consistent delivery of content
Authority and trust are built over time and have a powerful effect on fans. They recommend you to friends, you begin to have influence outside of your niche, and you have a reputation for taking care of people's needs.
The world's best search engine
This entire process leads to top placement in the world's most effective search engine, even better than Google. Your reader's mind.
If you have consistently demonstrated the ability to solve problems and help people overcome challenges, they will automatically think of you when it's time to buy or sell.
Now the moment of truth is here. Your reader turned fan is ready to buy or sell a home.
Who do you think they're going to call?
Brands and real estate agents who consistently provide value and demonstrate expertise are going to get the call before people who throw up billboards. It's not going to happen 100 percent of the time, but content is more reliable, measurable and trustworthy than the smiling agent on a grocery cart ad.
Think of a similar situation in your experience with a different business. Here's one of mine, and it illustrates that building trust and authority doesn't have to take years.
How my PT developed trust in 30 minutes and three blog posts
I recently did a free session with a physical therapist at my gym, Carolyn. No pressure to come back or pay for additional sessions, even though I could have used it. What she did is sent me a couple emails pointing to blog posts that served my injury, as well as exercises I could do at home to rehab.
When I need to go in for legitimate care and rehab, where do you think I'm going? I don't even need to search, I know I'm going to see Carolyn.
In an increasingly connected world with over 88 percent of millennials going online for home searches and buying information, who is going to be there waiting to help them?
Now you know the process readers go through to become clients. Be the one who serves and builds trust.
If you would like to see two quick whiteboard videos by Matt Ragland on the topic, you can find them here.

Matt Ragland is a content strategist based in Nashville. As a special for Inman readers, visit EngAgentCourse.com/Inman for a free guide to content marketing and social engagement. You can also follow Matt on Twitter at @MattRagland.