Inman is interviewing real estate professionals in every area of the field to talk about technology use. Here's Brad Korn of Keller Williams.
What model phone do you use and why?
IPhone 6 Plus for the larger screen.
What are your top three apps on your phone?
Messages, Safari and Poynt.
How do you split your digital time: how much mobile, how much desktop?
Mobile when on the go, and I'm pretty much on desktop whenever in the office.
Describe your job. What do you do every day? How does technology support (or not support) your daily job description?
My job involves planning and setting up systems to bring in new business. Following up on listing leads, and finding more listings. Technology is a huge part of helping me find all the contact info necessary to get the appointment.
I use anywho.com, Google and Facebook to track down lead contact information. I use a database with action plans and campaigns to manage and run the entire real estate business.
Do you consider yourself an early adopter of technology? Or do you wait to see what's working for other people?
Absolutely an early adopter. I surround myself and belong to a group called The CyberStars and other groups where top agents hang out.
The event that truly makes me an "early adopter" is the CyberStars Summit. Each year, I am able to implement the newest technologies to determine whether they will enhance and grow our business. Hanging out with top-producing agents who all share their best stuff helps us truly stay on the cutting edge of what works and what doesn't work.
What's the biggest technology-related challenge you face today? How do you solve it?
Getting contact and lead information from the point of a conversation with a person on the street to my database where all their information is captured and, more importantly, automatically finds missing information and reminds me to stay in touch with that person.
What do you think is the biggest overall challenge facing the real estate industry? Will technology be able to address it?
Consistent, persistent follow-up. We have people selling us leads because the agents don't stay in touch the first time they capture the lead. The industry teaches us to "get the next deal," and we are passing by all kinds of leads that will be business in the future … but most agents never follow back up.
Absolutely, technology could address it by capturing information and setting up auto campaigns to send them info and, more importantly, remind the agent to keep in touch..
How do you feel technology is changing the real estate industry? Are these changes making the industry better or worse? Why?
Technology is making everything happen faster and faster. I think technology allows us to raise the bar on the level of service we can provide by taking all the minutiae off our plates and giving the clients a better homebuying and selling experience.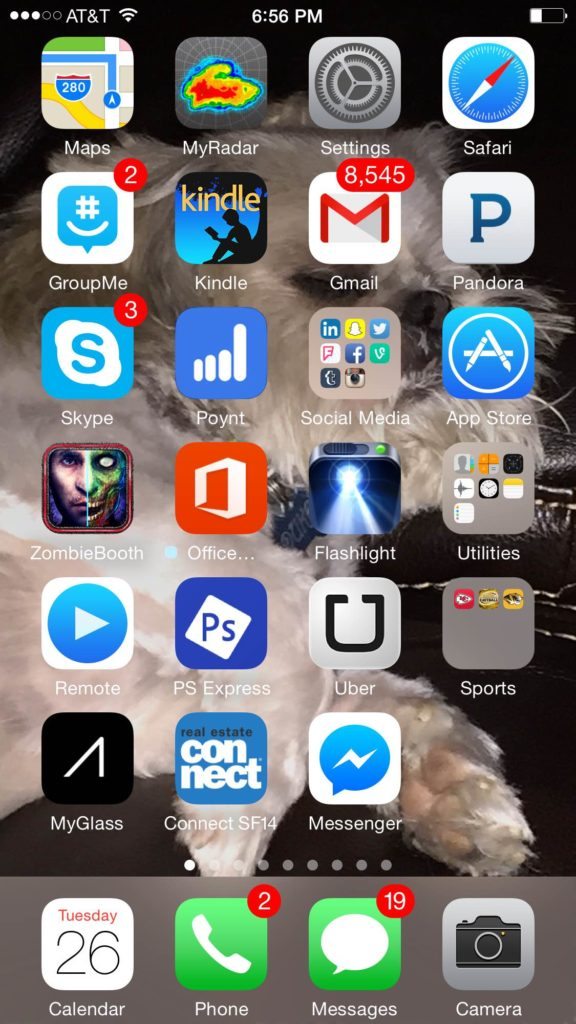 What email system(s) do you use? Which one is your favorite and why?
Gmail. I have custom URL emails that can all forward to these accounts. After losing Outlook PST files every year from corrupt files (probably because file size got too big) it was much more reliable. It was a challenge giving up the "folder" world of organizing; however, it has not been a great sacrifice compared with losing years of emails.
Which CRM do you use? What do you like about it, and what feature do you wish it would add in the future?
Several. Top Producer is our main "met" database that has all the campaigns and action plans running to keep in touch with leads, clients, etc.
EEdge is our "haven't met" database where we are on autopilot to capture email leads, and they go on automatic drip plans as well to help us move them to a "met" faster.
And the third is a new database we are trying called FUEL because it has texting and auto-dialer built into the follow-up system.
Do you use a calendar app? Which one? What do you like about it?
Yes, I use Google's calendar. It allows me to have access to my calendar anywhere, book appointments and, most important, my assistant and team members can not only book appointments for me, we can book appointments for each other and see what appointments the entire team has going on.
Do you use digital documents?
Yes, we are currently using dotloop. It is provided by our board. Much easier and faster to get documents to and from clients.
Do you own a camera? What kind? What do you like about it?
Yes. It's a simple Olympus digital camera with digital vision wide-angle lens attachment. We use prefilters action plans in Photoshop to lighten and contrast the photos to make our quality of photos stand out about the competition
What kind of laptop or tablet (or both) do you own?
Several laptops and iPads. My main laptop is Gateway… typically just spend around $500-$600 on a laptop when I need a new one. They typically last me three to four years before I need a new one.
I still have my full-size iPad; however, I mostly use the mini. I don't really use it on a daily basis. More for taking notes, and accessing websites when I am not in a place to open my laptop. I use my laptop 90 percent of the time when not on my desktops in the office.
Do you have a Nest thermostat in your home?
No.
Do you play games on any of your devices? Which ones?
No time!
Which websites do you visit every day? Why?
Anywho.com, Google, Facebook, LinkedIn and our MLS. I am constantly feeding our database with new contacts every day. I specifically use these sites to get all their contact information so I can start automated follow-up systems, and that helps us sell an average of 100 homes each year for the past 12-plus years.
Which social media app do you use the most on your phone? Your tablet? Your computer?
Facebook on my phone. Really just to take photos of where I am, if it is worth posting. That is where more of my consistent social media posting comes from.
I really don't sit down long enough to "goof around" on Facebook … however, if I can snap a photo of people I am with, or a monument or something fun … that happens from my phone.
Facebook, mostly on my computer.
What's on your technology wish list — for yourself or for work?
A way to capture contact information on everyone I meet every day. I would love to snap a photo of a person, and waiting for me at the office is their address, phone, email and links to everything they talk about on social media, groups they belong to, and so on. If I could put in a name or pieces of info, it will connect the dots and pull it all in one place.
Where do you get most of your leads? Portals or other sources?
We get leads from many sources. Our websites are tagged well and draw in a lot of Internet leads.
The most business just comes from every new relationship we create — get them in the database and stay in touch with them forever on a very consistent, persistent basis. That is over half of our real closed business.
What is your favorite technology, one you actually get joy out of using?
IPhone. It can do just about anything no matter where I am.
What is your favorite "unplugged" activity?
Ha … playing with technology :) I love testing out new software and things like recording devices, drones … things like that.
Also, most important is just doing things with our family … going to movies would be the top of the list.
Would you like to participate in our technology profile series? Email amber@inman.com.