International buyers purchased $104 billion worth of U.S. homes from April 2014 through March 2015. This total represents an 8 percent increase in sales volume compared to the previous year's estimate of $92.2 billion.
While total volume rose, the number of transactions closed during the same period declined by 10 percent, according to the National Association of Realtors.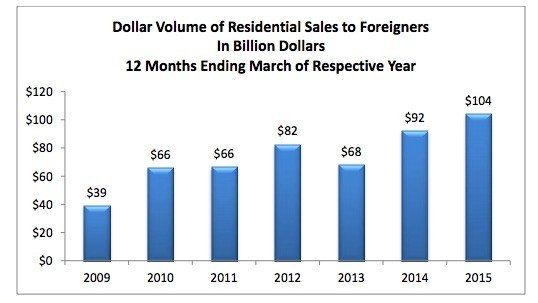 "International purchasers in the U.S. have become an upscale group of buyers, spending more money on fewer homes," said Lawrence Yun, NAR chief economist.
In 2014, five countries accounted for 51 percent of all purchases by international buyers.
For the first time, buyers from China exceeded all other countries in terms of units purchased and dollar volume, purchasing an estimated $28.6 billion worth of property. Chinese buyers also typically purchased the most expensive properties, at an average price of $831,800.
Buyers from Canada followed with $11.2 billion in purchases. India-based buyers closed $7.9 billion; Mexican buyers accounted for $4.9 billion; and U.K.-based individuals $3.8 billion.
Four states accounted for half of all international sales with two accounting for a combined 37 percent — Florida and California. Florida accounted for 21 percent of all foreign purchases, while California represented 16 percent. Chinese buyers tend to gravitate to the West Coast, while Canadians focus on the Southwest and Florida.
The average purchase price of a home bought by an international buyer stands at $499,600, compared with the overall U.S. average house price of $255,600. About 46 percent of reported international transactions were intended as primary residences, 20 percent as residential rentals, and 26 percent as investment rentals, vacation homes or both.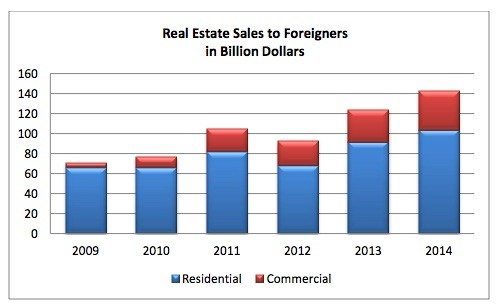 Indian buyers were the most likely to purchase a primary residence (79 percent), while 47 percent of homes purchased by Canadian buyers were vacation homes.
Thirty-five percent of Realtors reported working with an international client in 2014, up from 28 percent in 2013. The majority of international purchases were all cash deals, compared with roughly 25 percent of all purchases made by domestic buyers. Typically, mortgage financing tends to be an issue for nonresident international clients.
The multifamily sector is likely to steer some foreign investors away from investments in single-family. The rental industry is predicted to be the most attractive market for foreign investments in 2015, according to a survey recently released by national law firm Akerman LLP.
Similar to the single-family sector, the largest volume of foreign equity — roughly 50 percent of all foreign investment — for multifamily is predicted to emerge from China.