During the second quarter, the West region posted new lease rent growth of 7.8 percent year over year.
This uptick is a major reason why rents for new leases increased by 5.2 percent nationwide spanning the past 12 months and by 2.5 percent during the past three months. Rents for renewal leases also climbed 4.3 percent year over year.
"The nation's average price increase is being skewed quite a bit by the surging rents in the Western region of the country," said Greg Willett, vice president of MPF Research, a division of RealPage Inc. that released the above data.
Spanning June 2014 to June 2015, seven of the top 10 metros for new lease rent growth were in the West. Of the top 16 markets, 13 were in the West.
"What's really driving such high levels of overall growth in the West is that price increases have spread to the region's other large markets," Willett added, citing Southern California, Phoenix, Las Vegas and Sacramento.
During the past 12 months, new rents grew by:
7.6 percent in Sacramento
7.5 percent in San Diego
7.2 percent in Phoenix
7.1 percent in Las Vegas
6.2 percent in Southern California's Inland Empire
6.1 percent in Orange County, California
Most of these markets have been slow to recover from the recession but are now adding jobs and households at levels that stimulate considerable apartment demand, according to MPF.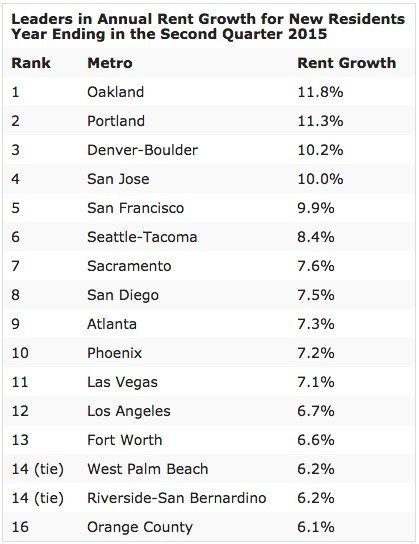 These metros are witnessing encouraging growth; however, the San Francisco Bay Area, Seattle, Denver and Portland, Oregon, continue to lead the West and the nation when it comes to rent growth.
Oakland, Portland, Denver and San Jose all saw rents rise by double digits during the past 12 months — 11.8 percent, 11.3 percent, 10.2 percent and 10 percent, respectively.
San Francisco was just behind with an overall increase of 9.9 percent. Seattle followed with a rise of 8.4 percent.
The West's overall annual rent growth is more than 3 percentage points higher than the other regions, which posted gains of 4.1 percent (South) and 3.3 percent (both Northeast and Midwest).
In these three regions, Atlanta, Fort Worth, Texas and West Palm Beach, Florida, are the leaders when it comes to annual rent rises. Atlanta witnessed a 7.3 percent spike, while Fort Worth came in at 6.6 percent. West Palm Beach saw a comparable increase of 6.2 percent.
Willett forecasts that the pace of overall price increases should cool a bit from today's level — growing by roughly 4.5 percent or better over the next 12 to 18 months.
Overall, occupancy is predicted to inch down slightly from 94.9 percent, a reflection of the volume of new product moving through initial lease up. As of the end of June, 421,345 multifamily units were under construction in the nation's top 100 metros.
---
Inman Connect San Francisco is right around the corner — register now and save $200!