Are you considering making an investment in a single-family home as a rental property this summer? The Pro Teck Valuation Services' Home Value Forecast measures the 10 best and worst markets for rental investment opportunities and includes a wide array of factors that potential investors should consider before taking the plunge to make a purchase.
Pro Teck measures by the Core Based Statistical Area (CBSA), using key factors such as:
Months of remaining inventory (MRI)
Sales/listing activity and prices
Sold-to-list price ratio
Foreclosure percentage
REO activity
Days on market (DOM)
"The top 10 — actually, the top 20 — CBSAs this month were all in the West or Southwest, with the furthest east CBSA being in Texas," said Tom O'Grady, CEO of Pro Teck Valuation Services.
"There are several new markets in the top 10 this month, including Portland (Oregon), Cheyenne (Wyoming), [and] Grand Junction and Colorado Springs (Colorado). Also, for the first time in six months, San Francisco is not in the top 10, as the number of sales have started to decline. All of the markets have months of remaining inventory (MRI) less than six months, which is an indicator of a 'healthier' market."
According to the data, the MRI showed that many California communities were in desperate need of more available properties in 2014. The smallest pool of inventory available was in Santa Ana-Anahiem-Irvine, at a stunning 0.57 months of available homes.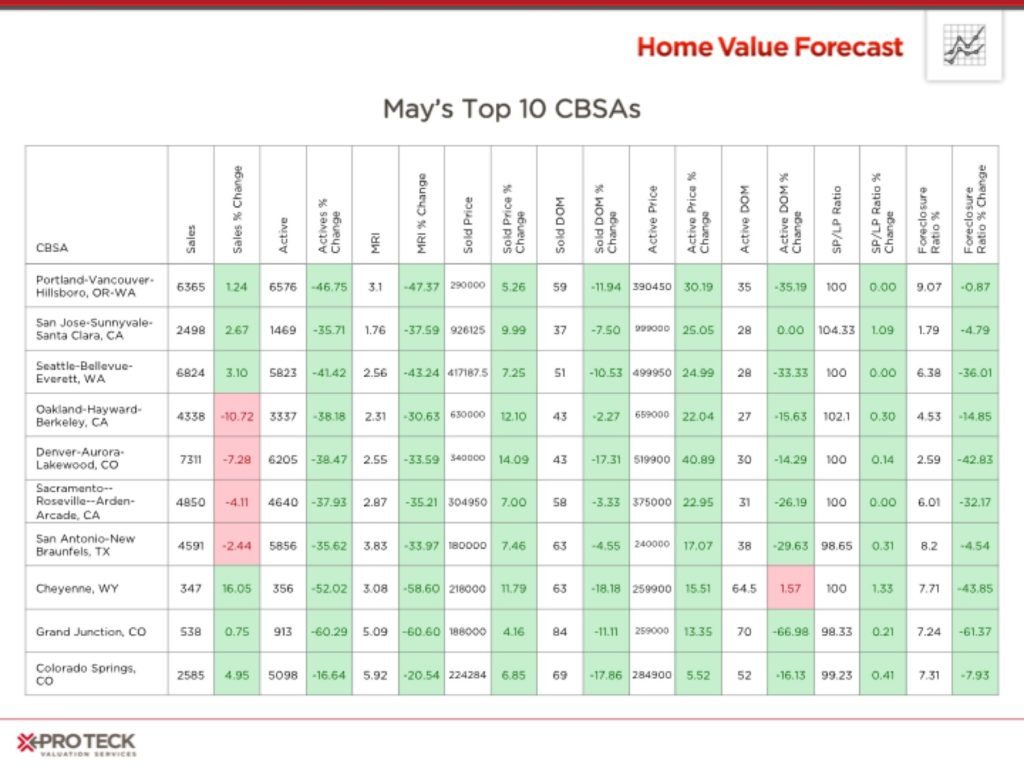 Salinas, another California city located less than two hours south of San Francisco, saw the most dramatic drop in available inventory. In 2014, the city had an MRI of 27.45, showing a massive pool of available inventory for homebuyers and investors. A year later and that pool plummeted 84.15 percent to a healthy MRI of 4.35.
Several other California regions, including Santa Cruz-Watsonville and San Jose-Sunnyvale-Santa Clara, saw a drop in MRI of 79.82 percent and 78 percent, respectively.
The top six regions that saw the biggest increase in inventory were located in the Golden State as well, with Anaheim-Santa Ana-Irvine leading the pack after 2014's incredibly low inventory. The region saw a massive 733.33 percent uptick year over year in 2015.
One region of the country that has long been plagued by the aftermath of the recession is the Las Vegas-Henderson-Paradise region. This area saw a significant jump in its MRI of 82.13 percent, bringing it from an MRI of 3.19 to a healthy 5.81 year over year.
A total of 66 markets were deemed healthy in 2015 by Pro Teck's Home Value Forecast, which was an increase over 52 markets in 2014.
Pro Teck recommends considering things like yearly rent income divided by property purchase price, the local job market and the vacancy rate before making a purchase.
---
Inman Connect San Francisco is right around the corner — register now and save $200!